Posted: November 14, 2022
Filed under: Penny Black, snowfield, Stamped Landscapes
| Tags: Fabriano Watercolour Paper, Penny Black stamps, Ranger Distress inks, Stamped Landscapes
12 Comments
I have teamed up with the Foiled Fox today to bring you this snowy scene. It's all one big beautiful Penny Black stamp called snowfield. The PB scenic stamps are fun to combine with each other or just add a few elements to but I generally stamp them first all by themselves. I like to get to know the stamp because a scenic stamp often has foreground, middle ground and background elements. In order to use watercolour techniques with them I need to work out what part of the stamp I should ink first.
In a snowscape it is also important to think about which parts of the panel need to stay untouched by ink or paint so they can look like fresh white snow! If you pop over to the Foiled Fox blog you will find my step by step process described. I used both water soluble (distress inks) and waterproof (archival inks) on this scene. I blended several colours on the fence posts so those were stamped with distress inks. The details on the trees are very fine so I used archival inks for a solid print along with some distress which I could blend over the larger trunk and branches to fill the silhouette shape. Of course the sky and snow is all done with distress inks because I wanted to add water so I could blend and dilute.
When painting shadows around snowy areas it is sometimes hard to keep all the white areas white; that is where a paint pen, gel pen or some white paint can come in handy for touching up at the end. You can even add paint splatter at the end rather than masking fluid at the beginning if you like.
I hope you take some time to visit the Foiled Fox blog; they have a world of inspiration waiting for you.
(Compensated affiliate links from Foiled Fox)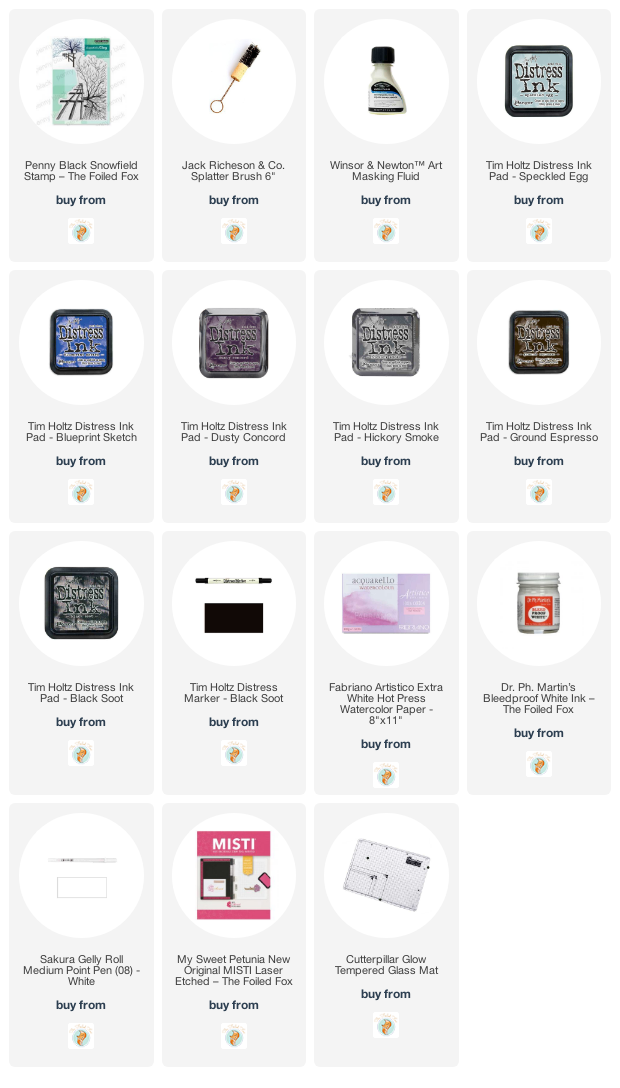 ---