Posted: May 18, 2022
Filed under: distinctive, fresh spring, Penny Black, sweet sprouts
| Tags: Penny Black stamps, Ranger Distress inks
13 Comments
I think I told you my one tulip bloomed already but I was still inspired to stamp more. My many lupins are yet to bloom so the idea of a floral mix card appealed to me. I have teamed up Penny Black's 'distinctive, 'fresh spring' & 'sweet sprouts' stamp on this card.
Once again I worked on hot press watercolour paper with distress inks. I usually spritz the stamp lightly with water before stamping then use a paintbrush to blend the inks or dilute them. The inks I used are listed below; I had seedless preserves as the main colour on the tulips and the highlight colour on the lupins. The technique for this card is featured in my online class Floral Faves which is still on sale for 30% off as part of my Moving Day Sale.
What's blooming in your garden or neighbourhood right now?
Supplies
(Compensated affiliate links used when possible)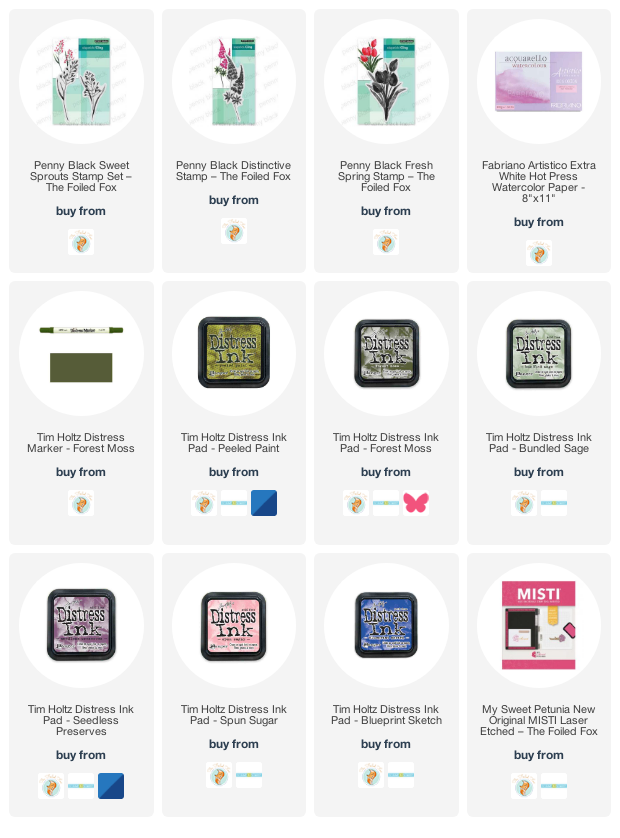 ---
Posted: March 8, 2022
Filed under: letter background, modesty, Penny Black, sweet sprouts
| Tags: Fabriano Watercolour Paper, Penny Black stamps, Ranger Distress inks
8 Comments
It snowed all day yesterday but spring arrived anyway in a package from Penny Black! I have a nice little stack of PB florals to share with you in the days to come and I should manage a video or two as well.
This first card features four stamps from the new Springtime release. Those of you who have been PB fans for years might notice a re-release among them. I stamped the large and small flowers from the 'modesty' set over foliage from the 'sweet sprouts' set; both sets include two large cling stamps. I used milled lavender and aged mahogany distress inks for the flowers and a mix of three distress greens for the leaves and stems. All the supplies are linked below.
The washy blended look in the petals was achieved by spritzing the stamp before stamping along with some paint brush blending afterwards. I stamped a border of script in weathered wood with the 'letter background stamp' and blended the same ink around the edges. I splattered water for some watermarks and a mix of the milled lavender and aged mahogany around the flowers.
The card is 6¼"x 4½" on cold pressed watercolour paper finished with a sentiment from the new 'love big' set. I love the snowy cards as you are aware but I am definitely excited to be stamping florals again!
Supplies
(Compensated affiliate links used when possible)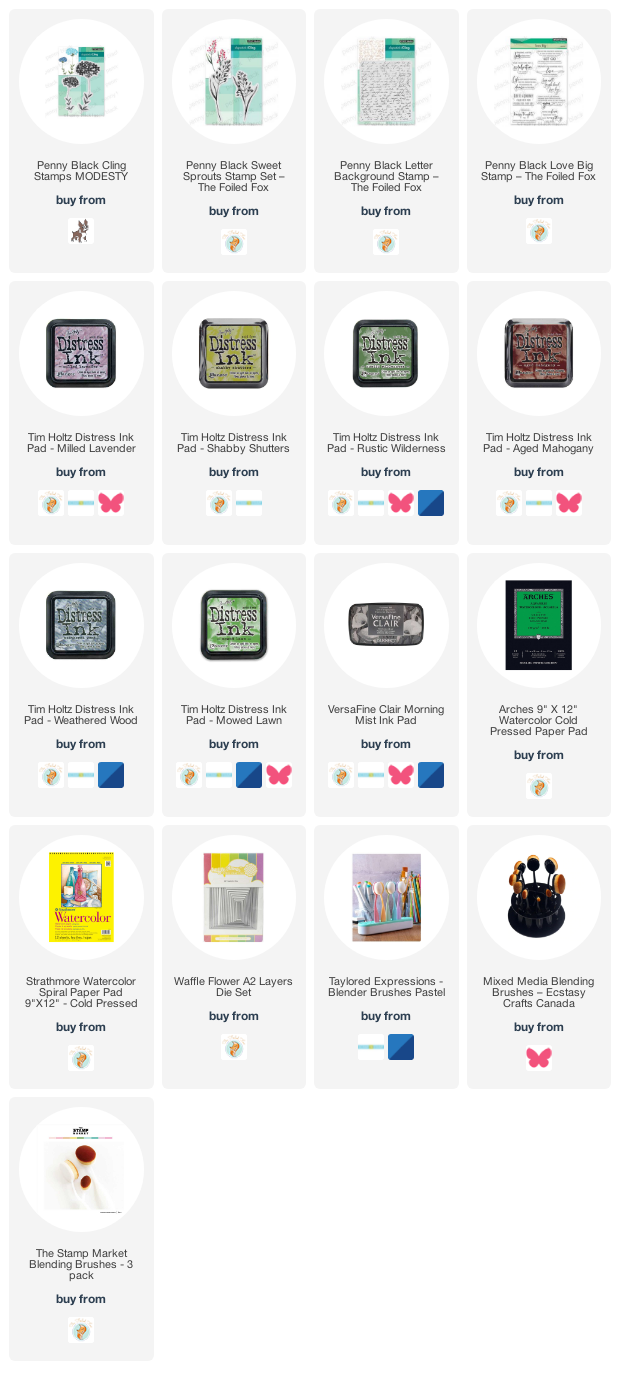 ---