Posted: December 20, 2022
Filed under: Penny Black, rivulet
| Tags: Fabriano Watercolour Paper, Penny Black stamps, Ranger Distress inks
12 Comments
This is the second card made with the beautiful Penny Black 'rivulet' stamp. This time I wanted to create a pale sunrise and reflection so I painted some diluted scattered straw ink on the panel before stamping. The panel was already splattered with masking fluid in tiny dots to represent falling snow.
After the yellow ink dried I stamped the image in uncharted mariner distress ink and added a few shadows to the edge of the tree trunks with black soot ink. I blended the ink on the trees and around the snowy ground with a paintbrush but I didn't want the blue and yellow inks to mix too much as I didn't want any green hurricane sky!
Once the whole panel was dry I used blending brushes to apply a little more scattered straw ink to the sky and foreground as well as some blue to the sky.
(Compensated affiliate links from Foiled Fox & Scrap n Stamp)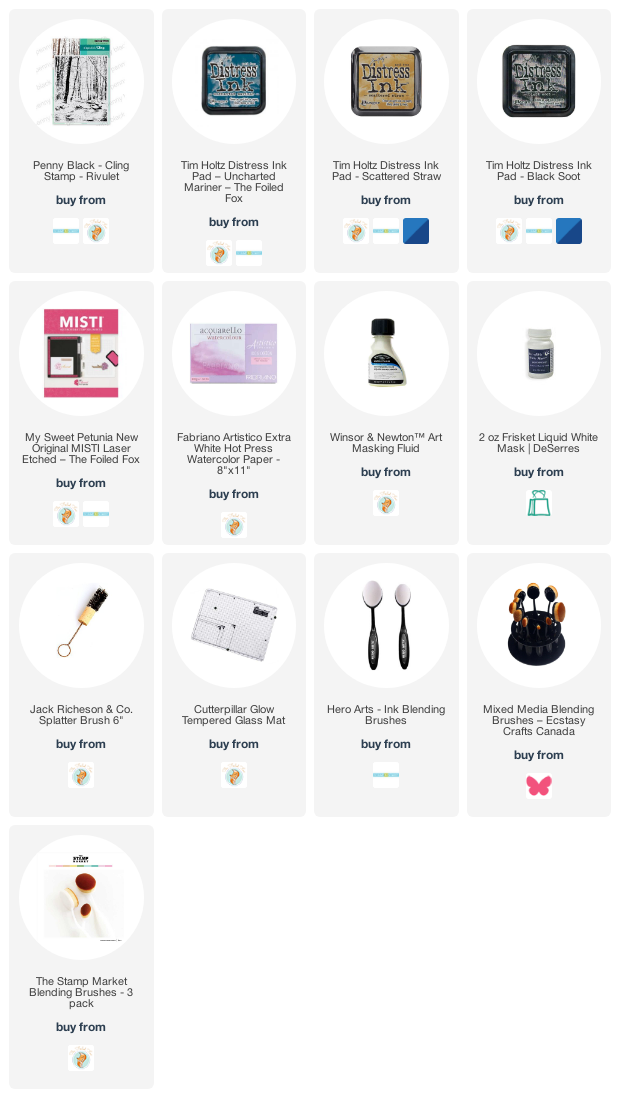 ---
Posted: November 3, 2022
Filed under: Penny Black, rivulet, Stamped Landscapes
| Tags: Fabriano Watercolour Paper, Penny Black stamps, Ranger Distress inks
23 Comments
I love it when I find a stamp that looks like somewhere I've been. I couldn't tell you exactly where this is but I have experienced scenery like this. I've said it before but winter here in the dark cold north is very beautiful. This gorgeous PB stamp is called 'rivulet' and I used only two inks! I am going to let you guess the inks. I'll update the links below in a few days but I'd really like to see your guesses. (hint: they are distress inks)
I worked on a piece of hot pressed watercolour paper splattered with masking fluid. I used the splatter brush I have used in the past. It gives a fine splatter. If I want bigger spots masked I will use an old paint brush. I worked in a stamp positioner, stamping first in one ink colour, then partially inking the stamp with the second colour before stamping again. I used a fine tip paint brush to blend the ink to fill the tree trunks and rivulet. I smooshed the inks on my glass mat so I could pick up extra ink if needed to fill some areas.
The panel is larger than my usual 4.25″x 5.5″ but I didn't want to trim it so I left a little extra space at the bottom of a larger card base for the sentiment from PB set 'jolly snippets. I have already made a second card with this stamp, changing ink colours to suggest a different time of day. Don't forget to leave your ink colour guesses for this card in the comments below!
(Compensated affiliate links from Foiled Fox & Scrap n Stamp)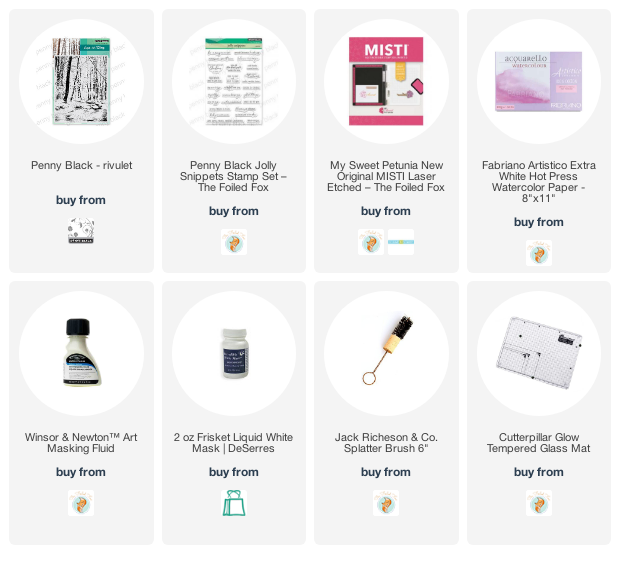 ---