Posted: January 28, 2020
Filed under: Finetec paints, key to kindness, Penny Black, rose romance, winsome wreath
| Tags: Finetec artist mica watercolour paint, Penny Black stamps, WOW embossing powders
15 Comments
Today's cards are my first experiment with black watercolour paper. I have already learnt a few things I will take into consideration on my next projects. I could have waited until I had played with the paper more but I decided to jump right in with these rather unusual valentine/friendship cards. The card with purple flowers does have a valentine sentiment but the other two could be used anytime to send a friendly message. Unfortunately the photos don't convey how shimmery the paint is and the colours are brighter in real life.
I've seen a few people on the interwebs using this new Stonehenge black cold press watercolour paper so I had to give it a try. As you can probably see I've paired it with pearlescent paints this time. I plan to try oxides next time. Because it is new to me I tried three different embossing powders wondering how much they would show up on black. On the card above I embossed PB 'winsome wreath'with WOW silver pearl; it looks a bit silvery. On the card below I used WOW white pearl on PB 'rose romance': it also looks a bit silvery. On the final card I used Ranger gun metal with a wreath from PB 'key to kindness' set, it is a bit darker but still looks a bit silvery.
To paint the flowers I used both my Finetec pearlescent paints and pearl paints. I don't find the two sets all that different but I think there might be a bit more shimmer in the pearlescent ones. I also have some Ken Oliver liquid metals so I used the verdi gris for the leaves above. I carried through the shimmer theme by cutting mats from  copper shimmer cardstock and I made card bases from black shimmer and quartz shimmer.
What do you think about predominantly black cards? I know some would find them too dark and sombre, some may be reminded of the painted velvet pictures from the 70's but maybe you like the added drama. Will you try the black watercolour paper if you get a chance?
Supplies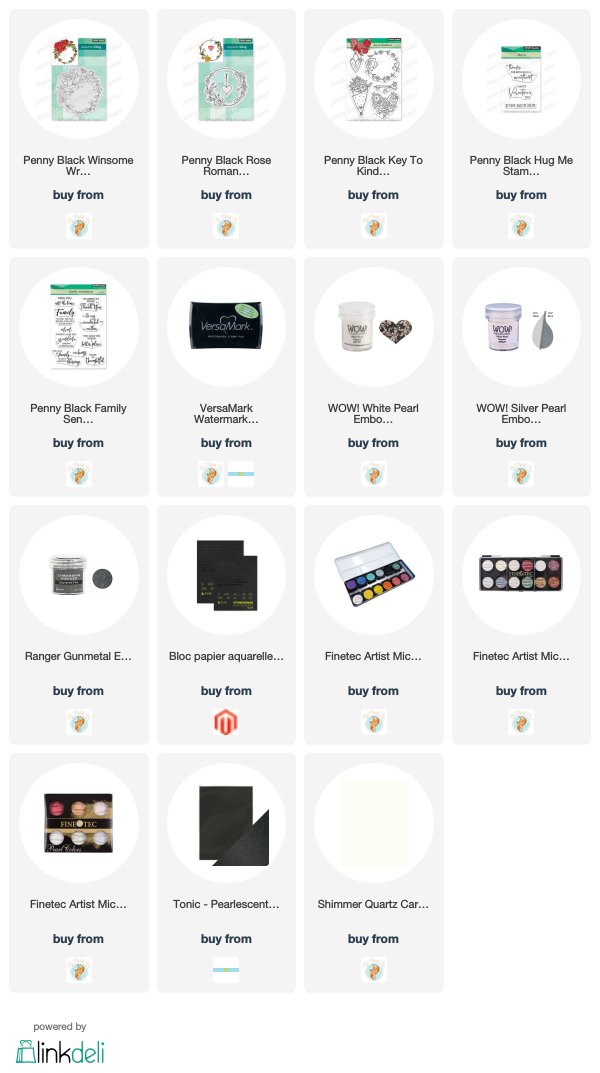 https://linkdeli.com/widget.js?1559654439292
---