Posted: July 20, 2022
Filed under: gel press, Penny Black, splendid, Taylored Expressions
| Tags: gel press, Penny Black creative dies, Penny Black stamps, Taylored Expressions
5 Comments
If you are thinking that's an unusual choice of colours, patterns and textures, you're right, but it actually makes me quite happy. This is the only layered flower die cut I have of the this type; I don't generally do layered die cuts. It's from Penny Black and it appealed to me because of the little buds rather than the complex flower. I know the idea of these dies is to layer in shades of the same colour going from light to dark in the layers. Instead I grabbed one of my gel printing clean up sheets which was covered in black, blue, green, pink, red and purple sections. The texture is from the brayer which I clean off on a thick sheet of paper when I'm gel printing.
In keeping with the combination of colours and texture I decided to go for an unusual background also and attached the flower and buds to a card-base embossed with the a Taylored Expressions chicken wire pattern. I won't be surprised if you find it a bit odd but I just can't help reaching for gel prints and this odd scrappy combo makes me smile. By the way, those little black dots in the centre, I added them myself; they aren't part of the original die.
This second card has a bit more elegance. I used the PB 'whisper' die to cut flowers from a gel printed text transfer. The text is from a recipe page in a magazine so you might be able to pick out the word cinnamon if you look closely. The dark mat looks black but is actually dark blue to co-ordinate with the gel print. I've used the same die to cut both blooms but used only a portion on the right hand side.
Do you use layered dies? Do you blend the cardstock with inks or pick co-ordinating cardstock? Or perhaps you go for random colour combos like I did!
By the way, Foiled Fox is having a Penny Black sale, so pop over and have a browse.
Supplies
(Compensated affiliate links used when possible)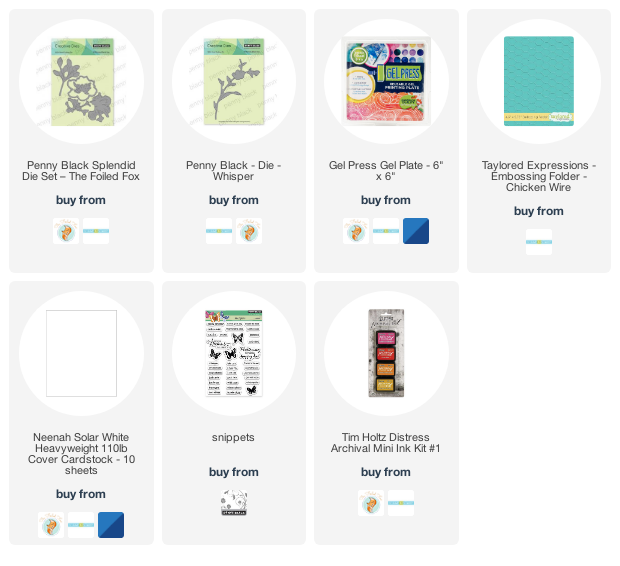 ---