Posted: August 31, 2020
Filed under: Background Stamps, Brutus Monroe, dotted fusion, Penny Black
| Tags: brutus monroe embossing powder, Penny Black stamps
8 Comments
At the risk of losing you I have to begin this post by directing you to the beautiful inspiration for this card. Just pop over to the wonderful blog of Anna-Karin Evalddson to see her double embossing. There is so much texture in her card. When I first saw it I was sure it was heat embossed and then dry embossed because the surface looked so 3D. Anna-Karin did a video of her process, which I watched then immediately went and made the card above. I often see cards which inspire me and I save or tag or pin them for another time; rarely do I immediately act on the inspiration.
I didn't achieve the 3D effect that Anna-Karin did but I like the play of double embossing and the unusual combination of colours and embossing powders. I worked on hot pressed watercolour paper, embossing the 'dotted fusion' stamp from PB first in a mix of 'sandcastle' & 'potting soil'. (supplies linked below). I moved the panel a little to one side then embossed again in a cream embossing powder.
To colour the panel I pulled out my distress stains, not the sprays, (but they would work) the daubers. I hardly ever reach for them now as they are no longer available so I don't want to taunt you with something you can't have. I still really like the daubers for applying a strong liquid ink in a confined space. In this case I dabbed them on the glass mat, spritzed some water and swiped the embossed panel through the colours (aged mahogany, peeled paint and old paper). Anna-Karin just used distress inkpads and her results were amazing.
To keep with the circle/dotty theme I stamped a word from PB 'huggable' set on a circle, matted on a circle and put the card together. Oh and there is splatter too, no surprises there.
that's a booster colour scheme btw, if you do my online class you will hear about that! 😉
Supplies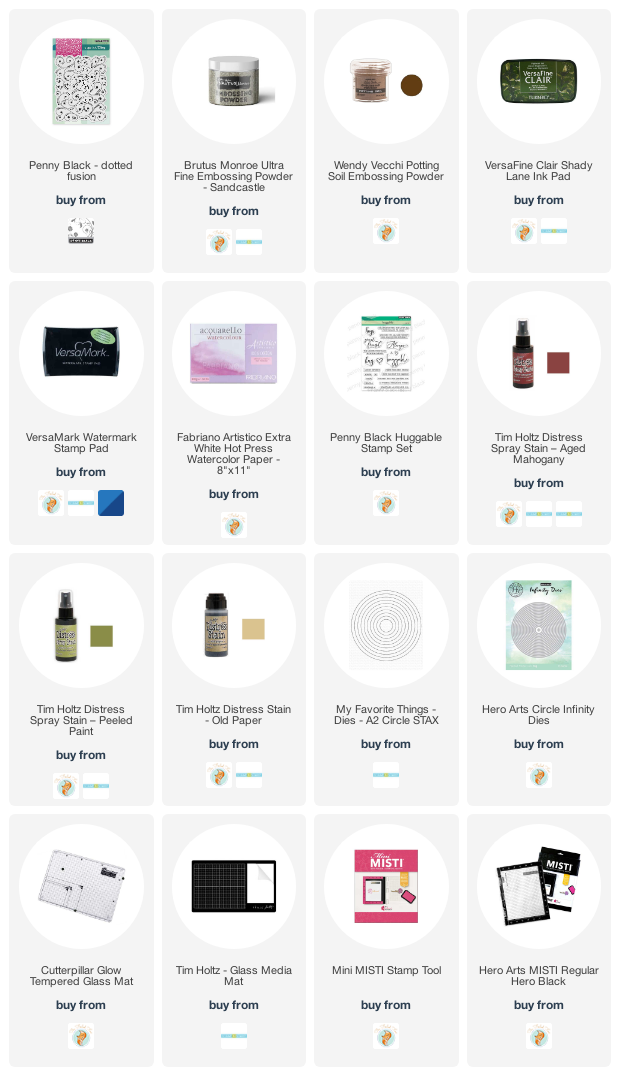 ---