Lovely
Posted: March 13, 2023
Filed under: lovely, Penny Black
| Tags: Fabriano Watercolour Paper, Penny Black stamps, Ranger Distress inks
7 Comments
I have another lovely new stamp from Penny Black and it is aptly named 'Lovely'! It is a brushstroke stamp, meaning that it is semi solid and made from a painted image to look like you painted it. I find that dye inks and water based markers are great for this type of stamp.
I worked on hot press watercolour paper which had some masking fluid splattered over it. I sometimes use masking fluid even when I am not creating a snowy scene because I like the slightly aged or 'rainy' look it gives my stamping and painting. I wanted to do the background before I stamped so I smooshed some speckled egg and mowed lawn distress inks on my glass mat, spritzed water to dilute it then swiped my watercolour panel through it. The result is very soft but enough to add subtle interest to the background.
I inked the flowers with a mix of tattered rose, abandoned coral and seedless preserves distress inks, spritzed the stamp with water then stamped. I used a paintbrush to blend the ink to fill the petals. You can see me use this technique in a video here. I inked the stems with mowed lawn and the tiny flowers with iced spruce. I do use a mix of large and small ink pads when I ink the stamp along with distress markers. I know distress markers are discontinued but I will keep using mine until the bitter end. I managed to reink a marker the other day following a video a friend told me about. The video maker used a distress stain but I had a re-inker in the required colour so I used the re-inker. I didn't see any improvement until the next day after the ink had time to soak through the tube and into the brush tip.
Because I love the matchy-matchy I pulled out a Ciao Bella ink to stamp the sentiment from the new PB set 'blessings'. My colour inspiration was from a photo Jan sent me last year. My colours are not as subtle as the ones in the photo but I still like the unusual mix of coral and purple. Thanks for the inspiration, Jan, I went to my file of your pics as soon as I started working with this stamp!
(Compensated affiliate links from Foiled Fox, Scrap n Stamp & Ecstasy Crafts)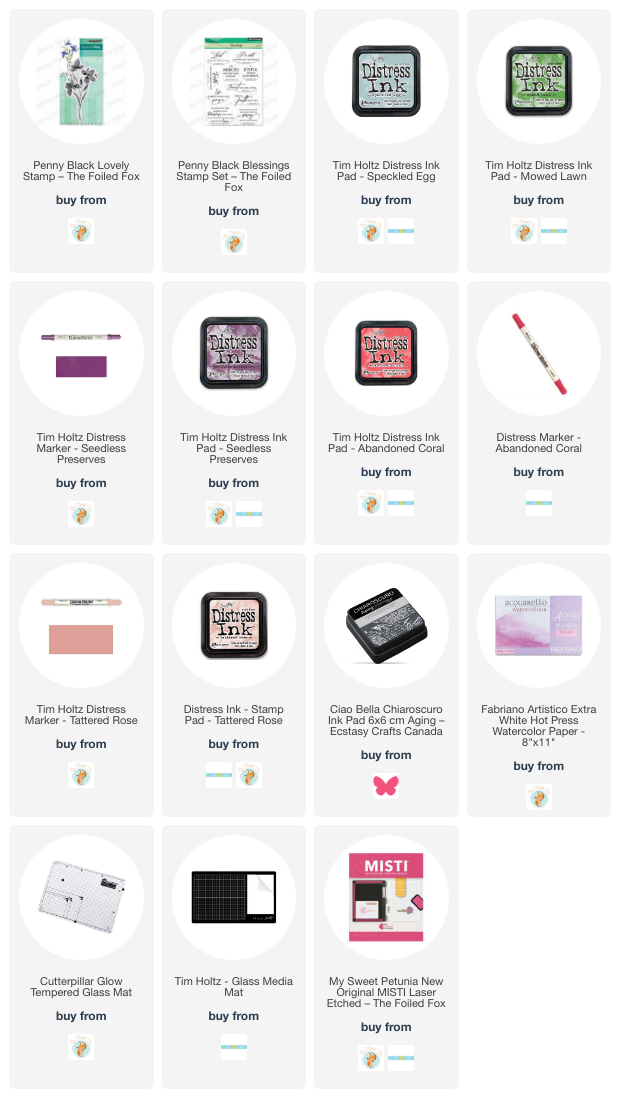 ---