Floral notes slim
Posted: March 3, 2021
Filed under: floral notes, Heather lowercase die set, Karin brushmarkers, Pink Fresh studio
| Tags: Fabriano Watercolour Paper, Karin brushmarkers, Pink Fresh studio, WOW embossing powders
5 Comments
I've teamed up with the Foiled Fox again to share this lovely slimline Pinkfresh Studio stamp. The stamp is called 'floral notes' and it's just over 8″ long! The set also includes some sentiments which I will feature another day.
I embossed the floral stamp in gold powder then added colour with dabs of ink from the Karin brushmarkers (I only used royal blue, lilac, gold and black). I say dabs because that is really all it takes to watercolour with the Karin markers. I dab a few dots of ink where I want the colour to be strongest then blend from that point with water to fill the petals or leaves. I was wanting variation in the petals and was happy to achieve it particularly in the large flowers coloured in lilac.
After the colouring was complete I splattered 'pearl gold' pearlescent paint from Finetec; it was a close match to the WOW metallic gold embossing powder. For a sentiment I cut 'hello' with the Pinkfresh 'Heather lowercase alphabet dies' and left the border off so the letters would not be too big then added a blended sentiment using dies from the Pinkfresh 'scripted bold sentiments' set.
Previous to making this card I lost the letter 't' die from the alphabet set. It was after cutting the word 'star' for another card. As you can imagine this caused me great dismay. Without the 't' there would be only birhdays, bes wishes and merry Chrismasses! I searched high and low and went my workroom garbage and recycling multiple times. Yesterday, after eleven days without it, the 't' was returned to the alphabet. It had fallen into the MFT box in the filing cabinet right between 'YAY for you' and 'painted prints'!
I'll be using this pretty floral stamp again and not necessarily just on slimline cards. The sentiments from the set are also lovely so keep an eye out for them. Don't forget to visit the Foiled Fox blog today for more details including measurements.
(Compensated affiliate links used when possible)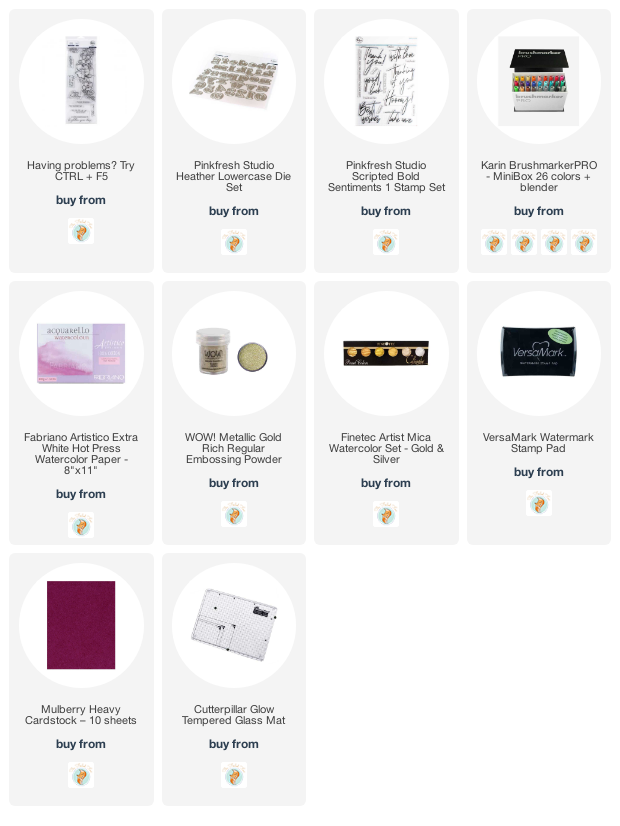 ---