No-line Watercolour with Karin brushmarkers
Posted: December 21, 2020
Filed under: frozen vista, Karin brushmarkers, Penny Black, poinsettia poem
| Tags: Fabriano Watercolour Paper, Karin brushmarkers, Papertrey ink, Penny Black stamps, Tsukineko Versafine inks
8 Comments
I'm happy to be teaming up with the Foiled Fox again to bring you some more Karin brushmarker experimenting, this time I put them to work on no-line watercolour. I was pretty sure they would do a good job and I wasn't disappointed. I also discovered that Papertrey Ink's 'soft stone' ink works well as a base stamping ink for no-line watercolour. To begin I stamped the same Penny Black poinsettia poem stamp on two pieces of hot pressed watercolour paper. On the design above I used only three Karin brush markers (red 209, teal 377 and henna 105) When colouring the leaves I inverted the red marker tip to tip with the teal before colouring to create the more browny green you see on the leaves.
I painted the petals one by one as is usually the case with no-line watercolour and I used the Red 209 marker. I used a slightly different methods for each card. On the above panel I barely touched the marker to the paper in each petal then blended the ink with water to fill the petal. On the panel below I painted a petal with water first then added a dot or two from the marker which flowed into the wet area. The effect is similar but the petals are paler where I applied water first and marker second.
On the second card I used magenta 170, lush green 228 and sepia 074. Once again I did a bit of tip to tip colour blending for the leaves and berries. It takes a bit of trial and error plus some scrap paper for testing to get the right mix of colour when doing the tip to tip blends. After adding ink to a marker tip the first strokes of colour will be the most intense and as you continue to apply ink to paper the intensity will decrease as the colour returns to its original tone. Make sure you visit the Foiled Fox blog where I provide even more detail about today's projects.
I used a textured shimmer green cardstock to create a die-cut frame for the card at the top of the post. It is easy to cut a narrow frame by using two rectangle dies from the Waffleflower A2 layer dies. For the second card I used mulberry cardstock to create a co-ordinating mat and stamped with both versafine clair tulip red & chianti to stamp the sentiment in a matching colour. When I don't have the exact ink colour for a sentiment I try a combination of two inks, something a stamp positioner makes quite straight forward. I stamped the sentiment on the first card with my beloved memento northern pine ink. The sentiments are from Penny Black sets, Christmas feeling and frozen vista.
(Compensated affiliate links used when possible)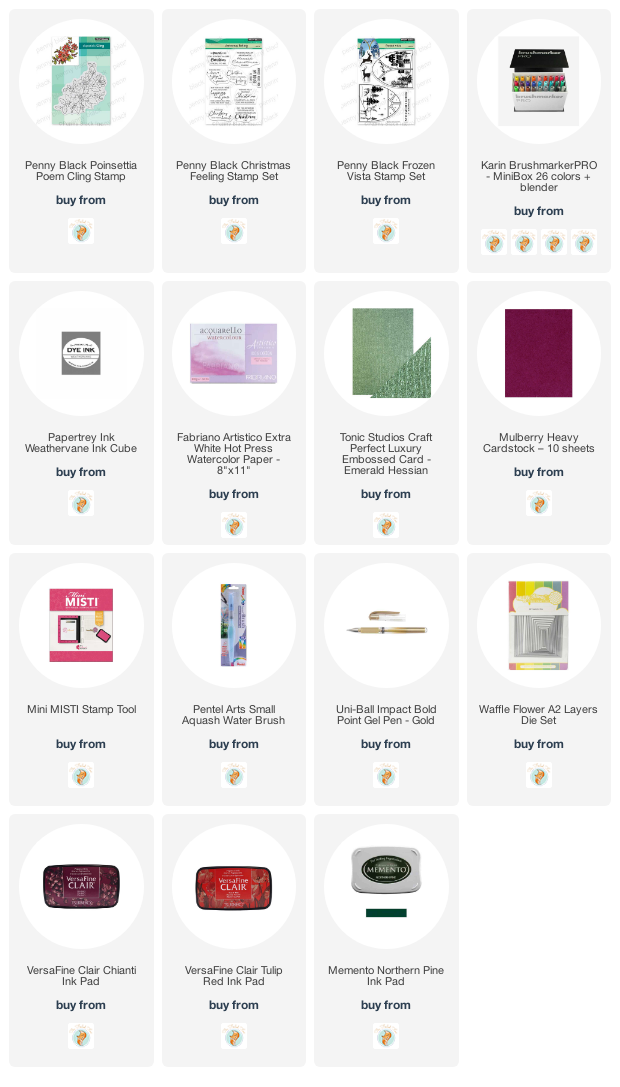 ---