Wise Men
Posted: December 8, 2020
Filed under: lighting the way, Penny Black, three kings
| Tags: Penny Black stamps, Ranger Distress inks
5 Comments
I have two more one-layer ink blended cards today created using exactly the same technique as yesterday's cards. I masked the edges of the neenah solar white card front with painter's tape then used blending brushes to build up colour to fill the inside space.
On both cards I placed a tiny circle post-it mask in the sky to be the star then blended the lightest colour over the whole panel. On the card above I started with antique linen distress ink; on the single wise man card below I started with speckled egg distress ink. Once the base colour was in place I positioned a hill shaped post-it note to mask the land area while I worked on the sky. On the card above I used worn lipstick then chipped sapphire. On the card below I blended pine needles followed by chipped sapphire.
For both cards I completed the sky blending then removed the tiny circle mask and blended over the top of the white dot so it would still be the brightest spot but without the crisp edges that would make it look too much like the moon.
Before removing the mask over the land area I stamped the Bethlehem stamp from PB lighting the way set along the edge of the mask in the lightest ink (antique linen or speckled egg). With the sky complete I placed the other half of the curved mask over the sky and removed the lower mask so I could blend the darker colours along the base of the design.
On the portrait oriented card I added one wise man from the PB three kings set in versafine clair nocturne ink while the tapes were still in place around the edges. On the card with three wise men I stamped one king with the tapes in place then removed the tapes to stamp two more kings overlapping the masked edge. I used sentiments from the PB set promise of hope.
I've mentioned my brother David's videos a couple of times this year. He has created quite a few series since churches went online in March. Even though many churches are meeting in person again he is still creating short, thoughtful bible talks. You might be interested in his current series, God's plan for Christmas. He is posting a new video everyday from Dec 1 -25 explaining the Christmas back story. There was nothing last minute about the birth of Jesus; it was planned from the beginning. As we prepare for a Christmas which will probably look a little different than usual you might enjoy taking a few minutes each day to think about the birth of Christ and what it means for us. You can find his God's plan for Christmas series here
(Compensated affiliate links used when possible)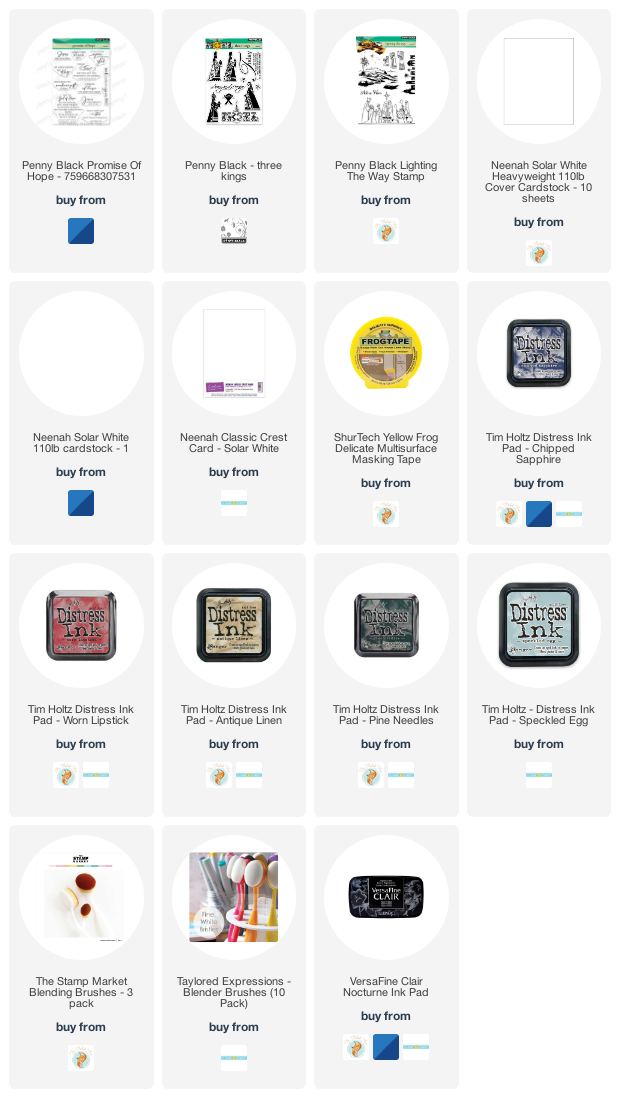 https://linkdeli.com/widget.js?id=f5e8378456858c916708
---