Masked hand painted circle
Posted: June 1, 2020
Filed under: Hand drawn, Hand lettered, sennelier watercolours
| Tags: Fabriano Watercolour Paper, Hand lettering, Hand painted, sennelier watercolours
10 Comments
A few weeks ago I posted a floral wreath I'd painted and asked your opinion on adding a sentiment. In the end I didn't risk stamping or writing one because I didn't want to spoil the finished wreath with an inky mistake. So….can you guess why I have a large sentiment strip stuck across this floral circle I painted?
To create the floral circle I drew a circle in pencil on cold pressed watercolour paper then painted liquid frisket (masking fluid) to a width of about half an inch around the outside of the circle. I used my Sennelier watercolours to paint three large roses first then moved onto other flowers, leaves and berries until the circle was fairly full. With a random design like this one whether it is painted or stamped it makes sense to start with the largest images to make sure you can fit them in then finish off will little leaves, dots or tiny flowers to fill any spaces at the end.
Once the painted circle was complete I practiced a 'happy birthday' greeting on scraps of watercolour paper with my nib pen and some black ink until I was happy with the size and style. I had only written 2½ letters before a large blob of black ink landed on the panel where the letter 'p' should have been! As you probably guessed that is the reason I have a large birthday banner obscuring some of my pretty flowers.
Supplies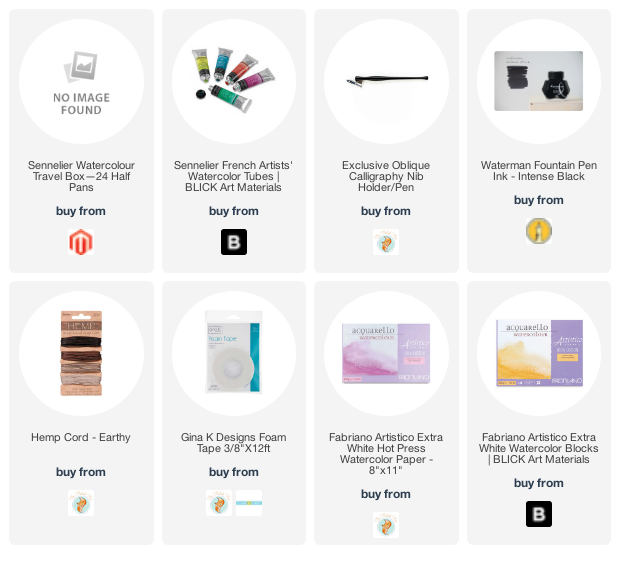 https://linkdeli.com/widget.js?id=f5e8378456858c916708
---