The Ride
Posted: April 1, 2020
Filed under: Arteza, Penny Black, the ride, watercolour real brush pens
| Tags: Arteza, Penny Black stamps
10 Comments
I have another card featuring colouring with Arteza real brush pens today. I completed several cards weeks ago as I tried out the pens but waited until now to feature them on the blog because I wanted to group them with the product review I did with the Arteza pens. The review shows me trying some of my favourite techniques with the pens. Even if you haven't watched the review video you probably won't be surprised to hear I was happy with the results on this scooter. You know I don't tend to branch out much from the 'nature themed' projects; it's trees and flowers, flowers and trees 80% of the time round here. This cute scooter did grab me though, so I made it part of my brush pen trials.
The scooter is stamped in versafine clair nocturne. When it came to the colouring I did not take the time to make sure all the highlights and shadows were in the right place; I just made sure there were some highlights and shadows! I stuck with three main colours, the 'blush red' I used for the splendiferous tulips, elephant gray and noir, then added in a pink, an orange and a green for the little flower arrangement on the front.
I coloured one section at a time blending with water then letting it dry while moving on to a non-adjacent section. The shadow was done with a few swipes of grey pen, diluted and then a touch of blush red dropped in. Those flowers were a bit high on the fiddliness factor scale for me but I persevered. I know they're only little but when the flowers get too small my eyesight and my patience doesn't like it. The cute sentiment is from 'carefree wishes'.
If you do get inspired to try the Arteza real brush pens (or anything else Arteza for that matter) here is a discount code for you HeatherTelford1 and here are affiliate links for the Arteza US store and EU store. Using these links means at no extra cost to you I receive a small commission. Arteza has a giveaway happening right now too so you could win a little spending spree (and by little I mean $100!) Check it out here
At the risk of experiencing your utter disbelief I want you to know I have another video for you on Friday! Stay home, stay healthy and stay hopeful everyone.
Supplies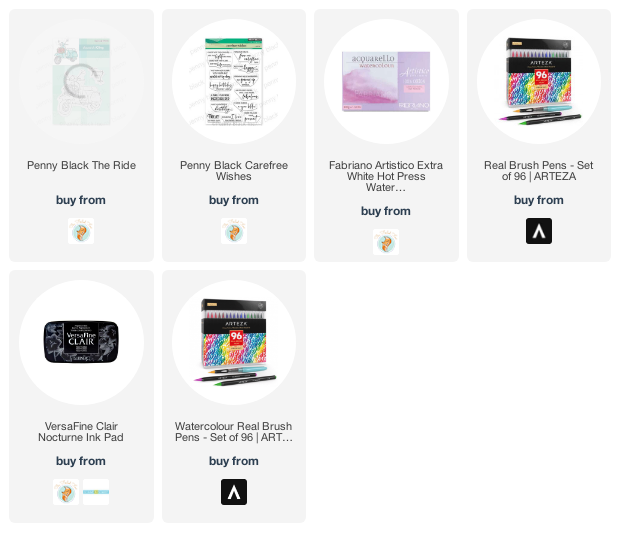 ---