Splendiferous
Posted: March 31, 2020
Filed under: Arteza, Penny Black, splendiferous, watercolour real brush pens
| Tags: Arteza, Penny Black stamps
7 Comments
This bunch of tulips is called 'splendiferous' which sums up their elegance well I think. 'Splendiferous' does sound a little bit like a made up word so I had to look it up and check. It is in fact a real word a bit like fantabulous, also a real word. I stamped these splendiferous tulips in nocturne versafine clair ink then coloured them with Arteza real brush pens. I posted a video a few days ago about the real brush pens, here's the link if you'd like to see me trying them out on my favourite watercolour techniques.
I blended the colouring with water after stamping them with versafine, a waterproof ink. Even though the petals have quite a variation of pink tones it was all done with one real brush pen, the blush red, from the 96 set. I coloured near the base of the petals or edges in shadow then blended the colour with water to fill the petal. I tried to work one petal at a time so the depth of colour in one section would not spread into an area I wanted lighter.
The leaves are also coloured with only one brush pen, emerald green. Once again I blended with water to get the variation of colour. The sentiment from 'magical friendship' is a lovely one and is stamped in versafine crimson red. To finish the card I matted in red and attach to a cream card base. I mentioned the other day that Arteza provided a discount code for my readers to use and then I forgot to provide it!! It is HeatherTelford1 and is worth 10% off. Arteza is also hosting a giveaway right now, you can find out how it works on their youtube channel.
As I mentioned yesterday I am very happy to be connecting with you in the comments. If you would also like to connect through snail mail, please use the 'CONTACT ME' button to send me your name and address. I will put a card in the mail to you.
Supplies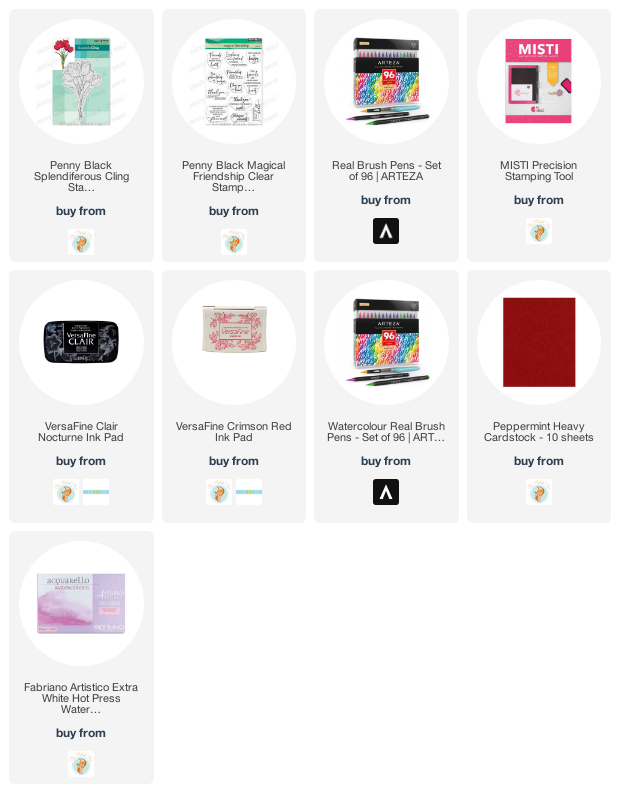 ---