Bold Blooms
Posted: March 30, 2020
Filed under: bold blooms, Ink to Paper, Papertrey Inks
| Tags: Ink to Paper, Papertrey ink, Tsukineko Versafine inks
4 Comments
How are you my friends? I am sharing here and over on the Foiled Fox blog today. If you are dealing with isolation or quarantine right now as most of us are you might be looking for some artsy craftsy ideas. The Foiled Fox not only features lovely projects by the owner, Shauna Todd, but also projects by many talented guest bloggers. Make sure you pop over to the Foiled Fox blog for some beauty and inspiration.
I've been doing some flower arranging, with stamps that is. The arrangements on today's cards were made with Ink to Paper's 'bold blooms' stamps and co-ordinating dies. The card above was all stamped on a piece of hot pressed watercolour paper. The second card is a combination of stamped die cuts and stamping on a base panel.
When arranging elements on a panel like this I always stamp the largest images first so I inked the large round flowers in 'harvest gold' ink (all the coloured inks are Papertrey ink cubes) and rolled some 'scarlet jewel' ink around the edges. Before stamping I spritzed the stamp lightly, that's what softens the blend between yellow and red ink.
To add leaves and small flowers I masked the three centre flowers with a post-it note and stamped stems and leaves to look like they were poking out from behind the yellow flowers. The leaves and stems are stamped in 'ocean tide' and 'pinefeather', the small flowers in 'winter wisteria' and 'scarlet jewel'. I spritzed before stamping each time so I would get a softened look. The sentiment is from the same set; the large word is stamped in nocturne and embossed in clear, the smaller words are embossed in white on black cardstock and popped up.
This second card has a very similar arrangement not purposely but maybe because I found it easy to balance all the elements when they are in this layout. My co-ordinating dies are still joined together so I began by cutting the whole panel three times to have a group of shapes to choose from. Once cut, I stamped them with the same colour scheme as for the first card. Before I did any attaching of dies I stamped some background stems and little flowers and did a little splattering too. It took me a little while to arrange the die-cuts to my satisfaction then attached them in three layers: directly on the base panel, popped up on a low profile foam tape then finally a few flowers popped up with a higher profile foam tape.
The sentiment for this one is from another Ink to Paper set 'tagged' once again embossed in white on black.
Take care friends, whether you are isolated at home or out and about continuing to work in one of the many essential fields. I hope you are able to connect with others either by phone, computer or even by post. As always I love connecting with you in the comments below. Let me know how you are and what you are up to.
Supplies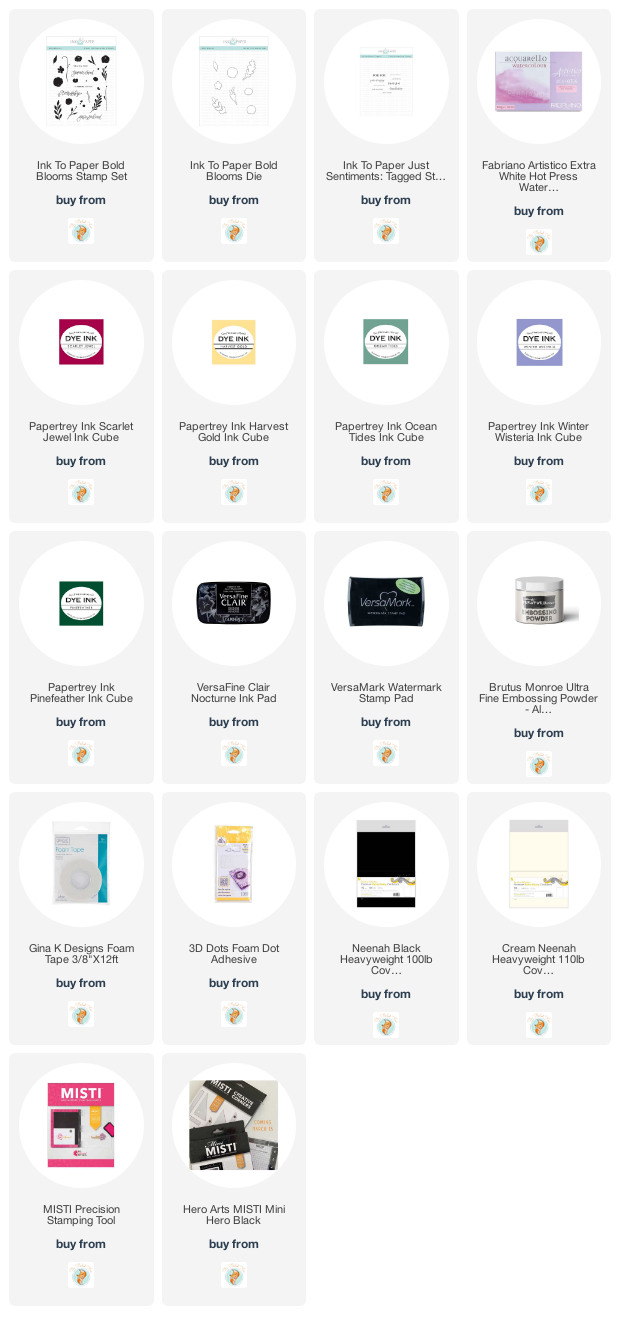 ---