A happy anniversary
Posted: November 15, 2019
Filed under: Hand lettered, numbers, Penny Black, spontaneous joy
| Tags: Finetec artist mica watercolour paint, Hand lettering, Penny Black creative dies, Penny Black stamps
9 Comments
What a treat it was to design and make this card at the request of a friend of mine. Her daughter, also a friend of mine celebrated the 20th anniversary of her adoption day yesterday so an extra special card was needed. Inspired once again by the beautiful round card made by Peet Roeven I chose the PB stamp 'spontaneous joy' and a red and gold colour scheme. I worked in a stamp positioner to add colour to the flowers gradually beginning with worn lipstick distress ink for the petals then candied apple distress ink for extra depth and shadow. I blended a little with a paintbrush and water but I didn't want to lose the detail by blending over all the stamping.
I used mowed lawn and peeled paint distress ink for the stems and leaves; two greens adds interest even on those small areas. I added black dots to the centres of the flowers then some gold dots with finetec pearlescent paint. To finish it off I splattered some of the same gold paint. I have been pulling out my finetec paints quite often recently, not so much for the main elements but for details and finishing touches. I used the same gold and a pen & nib to write my own sentiment strip.
While all the inks were out I stamped a flower on a second panel of watercolour paper and on an envelope. I used a set of circle dies to cut the main panel and back panels into large circles and to cut a circle out of the centre of the front panel. I used a piece of embossed gold cardstock to cut extra circles and the number '20' using the PB 'numbers' die set.
To assemble the card I scored across the top of the the back circle, applied adhesive above the score line and attached the two panels together. Having the score line on the back panel means the front decorative panel doesn't need to bend at all. I also sliced a very slim bit of the bottom of the back circle so the card will stand up and not roll away!
Thanks for dropping by today, I hope you have a lovely weekend.
Supplies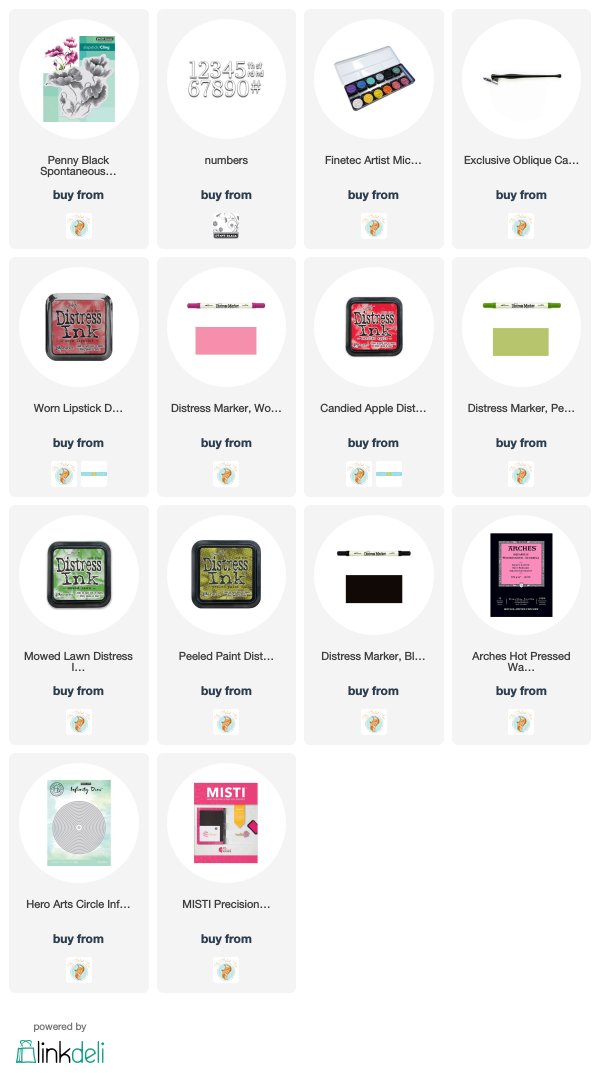 https://linkdeli.com/widget.js?1559654439292
---