Flower fantasy blossoms
Posted: May 15, 2019
Filed under: flower fantasy, Penny Black, winter branches
| Tags: no-line watercolour, Penny Black creative dies, Penny Black stamps, Ranger Distress inks
6 Comments
Blossoms are finally appearing in Ottawa! I even have a daffodil or two in my garden.
There are two blossom stamps on the PB 'flower fantasy' set and I paired them up to create this spring card. I used spun sugar distress ink to stamp the blossoms then painted the petals first with spun sugar ink then a second layer with worn lipstick ink. My painting is inside the lines for the first layer but I added the darker layer more loosely just wanting some extra depth in the flowers. I was working in my MISTI so I was able to ink the centres in rusty hinge ink and stamp them over the flowers once the painting was dry. This is an example of what is known as 'no-line watercolouring'. Distress inks are great for this technique as you can stamp with them and then smoosh them on a glass mat or acrylic block and paint with the ink. The original stamped outline blends with the painting making the lines less obvious or disappear entirely. I often use antique linen distress ink for no-line watercolouring but the spun sugar did a good job for today's panel.
To fill in the design I added some twigs using the 'winter branches' stamps and forest moss distress ink. I painted little dabs of shabby shutters and diluted forest moss ink around the twigs to look like leaves budding.
To add some subtle decoration I used the new stitched nested frames dies to cut the stamped panel and the sentiment strip. I stamped the sentiment in peeled paint archival ink; having archival inks in distress colours is a wonderful thing! The sentiment is from the 'best mom' stamp set and I think it is so nice to have a 'we love you' stamp as this card is going to a friend and will be from our whole family.
Supplies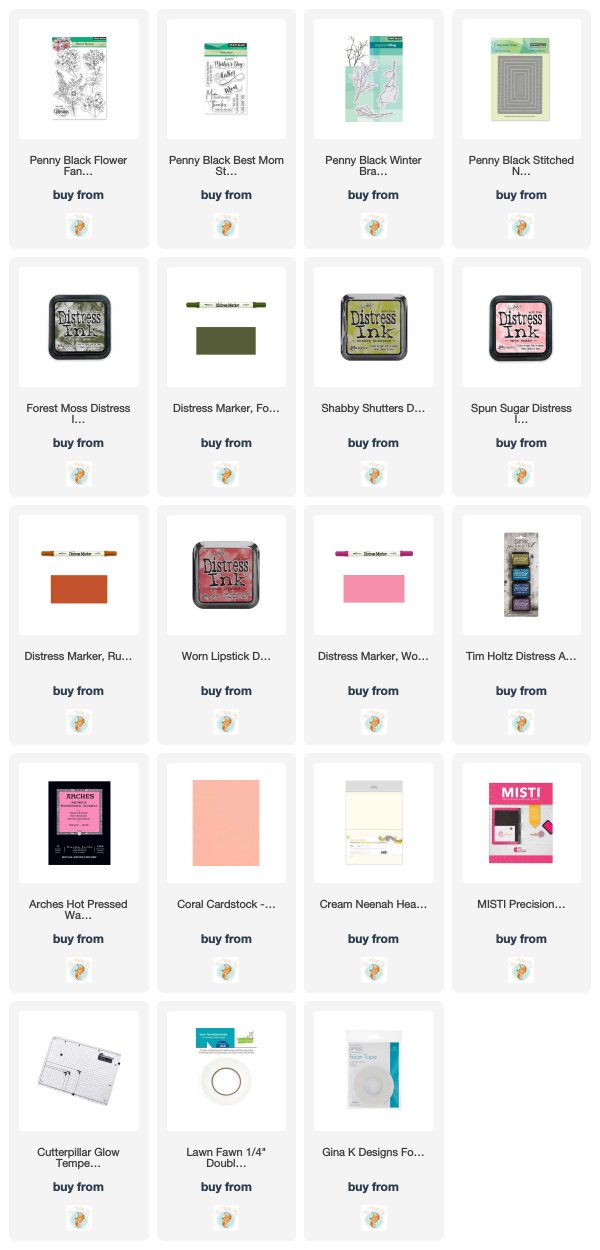 ---