Rose garden
Posted: February 21, 2019
Filed under: Inktense pencils, Penny Black, rose garden
| Tags: Inktense, Penny Black stamps, Tsukineko Versafine inks
7 Comments
I am hanging out on the Foiled Fox blog today with some new Penny Black floral loveliness along with some new to me inktensity!
I have been trying out some inktense pencils lately. Friends have raved about them and Shauna from the Foiled Fox loves them and kindly sent me some to try. Inktense pencils and blocks are permanent once dry so it is possible to blend then add another layer without diluting the first layer. Some watercolours are not permanent so they blend with subsequent layers applied. I was happy to see how easy it is to 'paint' with these pencils.
I stamped the roses on cold pressed watercolour paper in versafine clair nocturne ink. I picked out four inktense pencils in red/pink tones and painted each rose in one colour starting with a pale wash then gradually adding more of the same color to build up shadows around the petals.I painted the leaves in green again adding a second layer for extra depth. The planter pot is painted with charcoal grey and bark inktense pencils. I was rather happy with the combination of these colours which I chose randomly. I wanted the planter to look a bit like galvanised iron.
To create the look of wood paneling in the background I ruled some lines with the charcoal inktense pencil then blended the lines with a paintbrush and water. To ground the tub of roses I ruled some lines to look like a table or bench and again blended between the lines and painted shadow around the planter.
To finish off the card I added a sentiment from the new 'PB 'grateful sentiments' set in  nocturne ink. I love sets like this one; there are two large words then a whole bunch of phrases that co-ordinate. So many options!
Supplies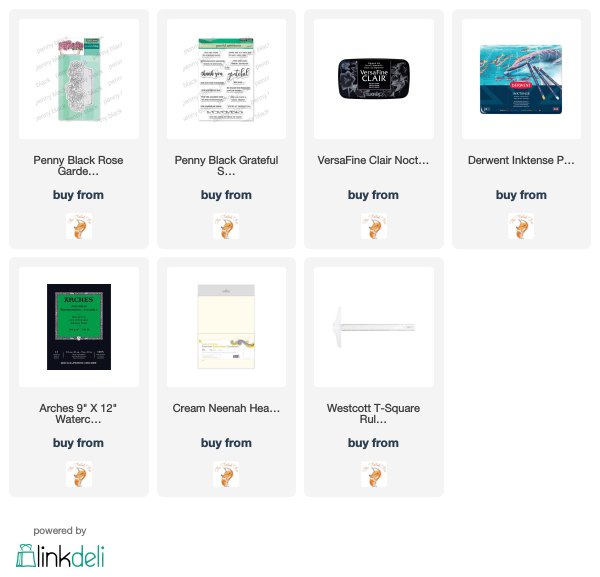 ---