Posted: October 11, 2022
Filed under: Penny Black, scarlet
| Tags: Fabriano Watercolour Paper, Penny Black stamps, Ranger Distress inks
6 Comments
A few weeks back I posted a very neat and carefully painted card with this pretty 'scarlet' stamp from Penny Black. For that one I stamped in a pale ink so I could do some no-line watercolour. For this card I worked in a much looser style. Some have called in my wishy-washy style.
I enjoy working in this style because I can end up with some very organic and serendipitous blends. Sometimes I end up with muddy unappealing blends also but on a big enough design those sections can be cropped away.
To create this panel I splattere masking fluid on hot pressed watercolour paper. Once the masking fluid was dry I worked in a stamp positioner while applying distress inks to sections of the stamp. I did the red petals first, blended the stamping with a brush and water then once the petals were dry moved onto the leaves and berries. There is a little ink blending from the red into the green but not so much as to create brown areas.
I painted around the petals, leaves and berries with Payne's grey watercolour paint then when it was almost dry stamped the pine needles in weathered wood distress ink. The sentiment in stamped in hickory smoke archival ink.
(Compensated affiliate links from Foiled Fox, Scrap n Stamp and Ecstasy Crafts)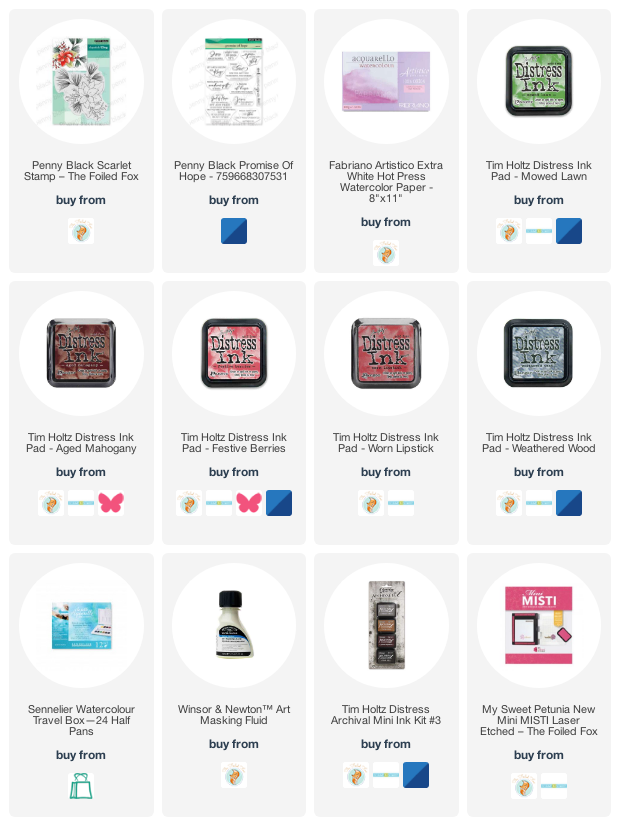 ---
Posted: August 31, 2022
Filed under: Penny Black, scarlet
| Tags: Penny Black stamps, Ranger Distress inks, sennelier watercolours
6 Comments
Penny Black does not disappoint when it comes to floral stamps – spring, summer, fall and winter. This winter poinsettia arrangement is a new one from the recent winter release. In order to create a balanced no-line watercolour design I stamped on the top left and lower right hand corners in soft stone ink. I used a combination of distress inks and Sennelier watercolour paints to add colour to the outline stamp.
I used one red paint for the petals, painting a soft layer then adding depth and shading by adding more of the same colour. For the berries I used the same red but added some purple so there would be variation but still in the same 'family'.
I thought about adding some background shading but was so happy with the clean design I decided not to risk it. Instead I found a sentiment to fit neatly into the space between the floral sprays and stamped in green ink to co-ordinate.
Supplies
(Compensated affiliate links used when purchasing from Foiled Fox, Scrap n Stamp and Ecstasy Crafts)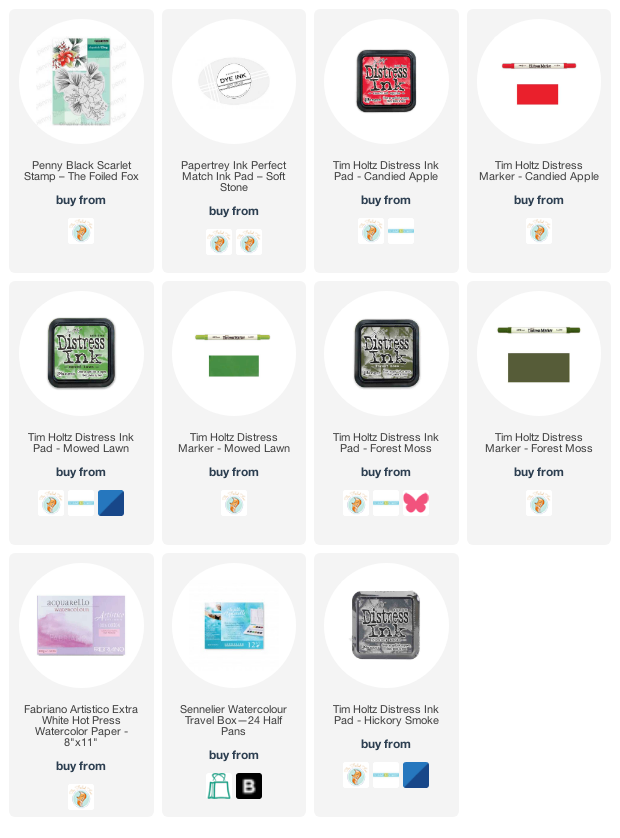 ---