Posted: March 10, 2023
Filed under: Penny Black, prized
| Tags: Fabriano Watercolour Paper, Penny Black stamps, Ranger Distress inks
16 Comments
Penny Black has new stamps! And of course I am especially interested in new flowers and tree stamps. This rose, aptly named 'prized' is just one of the new stamps I will be sharing on the blog in the next few weeks.
My mother loved roses and she and my father grew them in every garden they made. My dad has several lovely ones out the front and the back of his retirement unit. I think he has one with peachy/yellow colouring a bit like this one.
To colour the 'prized' rose I worked on hot pressed watercolour paper and kept it in a stamp positioner. I inked the petals with both fossilized amber and abandoned coral distress inks. I spritzed the inked stamp before stamping which made the ink wetter and easier to blend into each petal shape. When using this technique I always smoosh the ink pad on my glass mat so I can pick up ink there as well.
While the petals dried I inked the leaves and stem with forest moss and a small amount of faded jeans distress inks then followed the same technique as above to paint the leaves. I went back to the petals and did a second round of stamping and blending adding candied apple ink to the centre of the rose to deepen the colour.
After I had completed the flower I used mix of diluted inks to paint around the rose. I added hickory smoke to the other four inks as I blended around the edges of the flower and feathered out to pale yellow or grey at the edges of the watercolour panel.

I chose the title sentiment from the PB set 'delightful day' and stamped it in peeled paint archival ink.
Hope you are having a delightful day!
(Compensated affiliate links from Foiled Fox, Scrap n Stamp)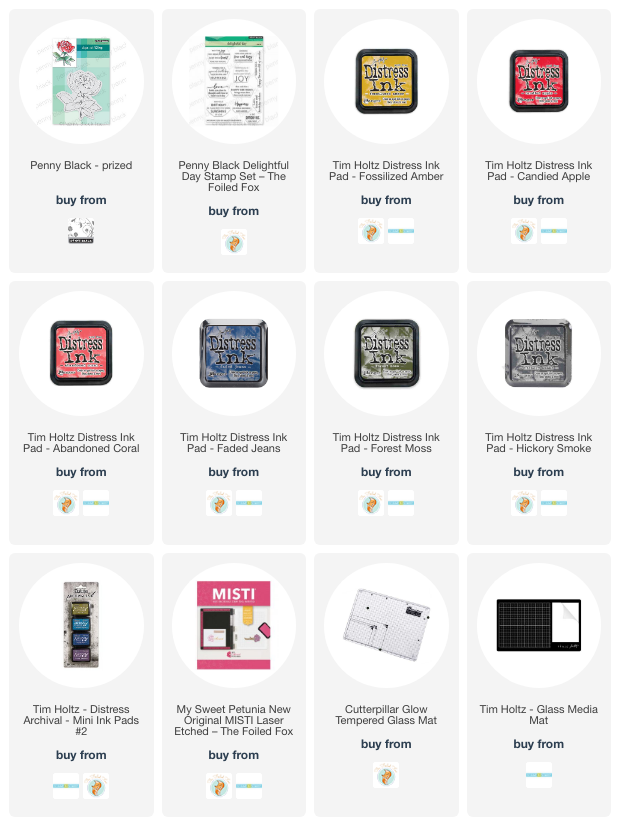 ---