Posted: November 29, 2022
Filed under: merry berries, Penny Black
| Tags: Fabriano Watercolour Paper, Penny Black stamps
8 Comments
As I was stamping and painting this panel it hadn't occurred to me that these berries are mistletoe and maybe shouldn't have been red! The stamp is called Merry Berries from Penny Black and it's stamped three times. I picked a red and a purple for the berries and a couple of greens for the leaves. I used both distress inks and distress markers to get everything inked.
With this many small leaves and berries I work in a stamp positioner and sometimes ink the stamp with one ink pad and then remove ink where I don't want it. I stamp that first colour or in the case of the leaves, the mix of forest moss and mowed lawn and, because I had wiped ink off the berries, they will be unstamped (ideally!). I switched to markers to ink the berries, stamping a couple of times to build up shadow and depth. Once all the leaves and berries are inked I blend with a paintbrush and water to fill the shapes.
The little white dots on the leaves are the result of splattered masking fluid on the hot pressed watercolour paper. I splatter the masking fluid on several panels of watercolour paper ahead of time and let them dry so I can grab one when I need one. When all the stamping and painting is completed and dry I rub the masking fluid off with my fingers or with adhesive eraser. To finish the card I stamped a sentiment from the PB 'promise of hope' set.
(Compensated affiliate links from Foiled Fox, Scrap n Stamp & Ecstasy Crafts)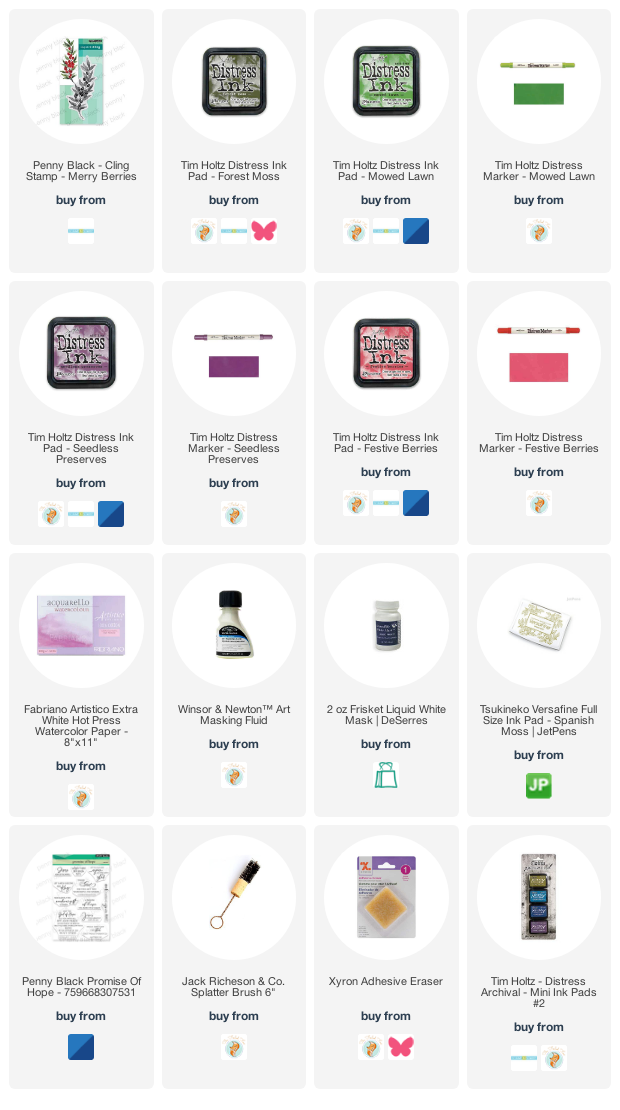 ---