Gel Plate Plant Prints
Posted: May 16, 2023
Filed under: Classes, gel press, online class
| Tags: Classes, gel press, gel printing, online class
6 Comments
I have a few more plant gel prints to share with you. I put these ones together as a gift a while ago but saved this post to co-ordinate with the launch of my new online class Gel Print Journey. This class has been in the works for a while so I am excited to finally share it with you. It is an introductory class covering printing with acrylic paints and includes loads of techniques, hours of video instruction and a few inspiration galleries at the end so you can see what I do with some of the prints. (there is a discount code at the end of this post)
In the new class three of the lessons cover leaf, grass and feather prints teaching the techniques used to make the cards in today's post. For the card above I used one large leaf but often I use a mix of leaves, grasses and when available, flowers.
Because I made all these prints with a 6″x6″ gel plate I was able to cover the card front and save a strip to add to the edge of the envelope. I used double sided adhesive to add these prints to my card fronts but a tape runner or gluestick would also do the job.
As you can see in the print above ferns print very well. I rolled red paint on my plate, pressed a fern frond and a flower into the paint, removed paint all around the elements with tissue paper then pulled the remaining print with gold paint. So much fun! Now that I have plants growing again in my garden I will be creating a new pile of nature prints.
I promised to let you know when my class launched and because my blog readers are such an encouragement to me feel free to use the discount code TEAMBLOG10 for a 10% discount when you register.
(Compensated affiliate links from Foiled Fox & Scrap n Stamp)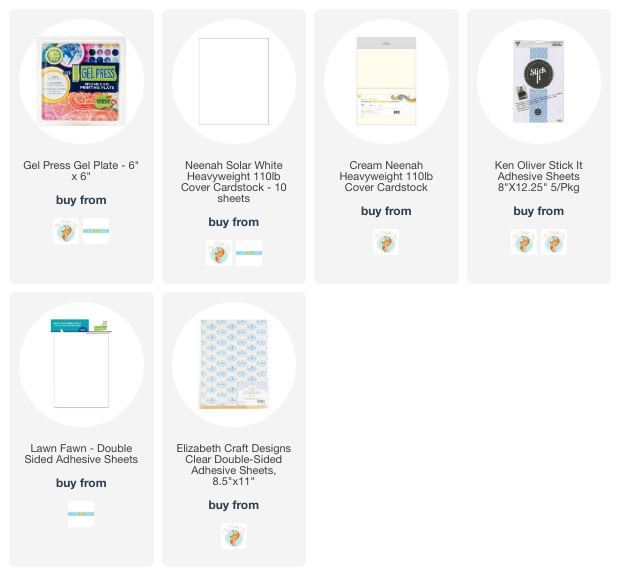 ---