Traverse
Posted: December 27, 2022
Filed under: Penny Black, Stamped Landscapes, traverse
| Tags: Penny Black stamps, Ranger Distress inks
4 Comments
Just like many of you we have experienced some crazy weather in the past week. We were very thankful to have our family together over the Christmas weekend, I know many people had to change their plans. The scene above, made with the Penny Black stamp, traverse, is a lovely wintery scene and not unlike what we are seeing around here now.
As usual I worked on hot pressed watercolour and kept it in a stamp positioning tool. The paper was splattered with masking fluid before I started, that's how I ended up with all the little white dots of snow falling. I stamped the top half of the stamp first in pale green, but I should have chosen pale blue. I did this so I could see where the trees were and the top of the bridge. While the panel was securely in the stamp positioner I painted the sky with faded jeans distress ink making sure the ink came right down to the top of the bridge and past the tops of the trees. When the painted sky was almost dry I stamped the trees in rustic wilderness and pine needles inks. With a damp paintbrush I blended the inks making sure I left sections of the tree white to look snow covered. I moved onto the cabin which I stamped in vintage photo and black soot. The bridge is stamped in black soot and hickory smoke ink and blended with a paintbrush.
I stamped the creek and surrounds in faded jeans distress then blended some uncharted mariner in for variety. I finished off by removing the masking fluid and adding a sentiment in rustic wilderness archival ink. Hope you are having a relaxing week.
(Compensated affiliate links from Foiled Fox, Scrap n Stamp & Ecstasy Crafts)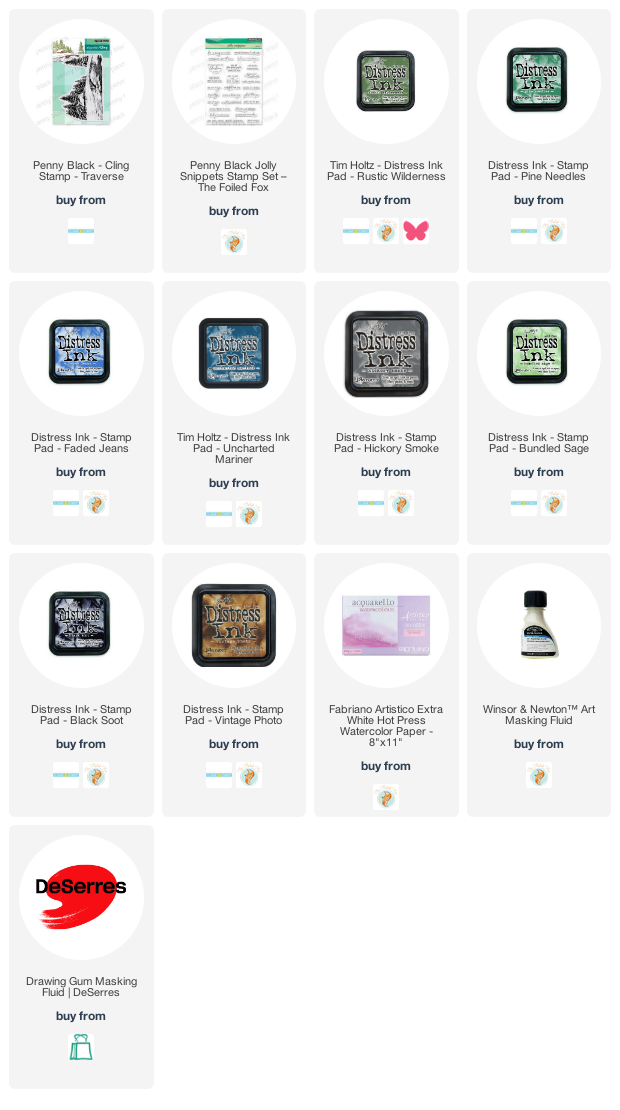 ---