2021 BuJo – March title page
Posted: March 6, 2021
Filed under: Bullet Journal, Dingbat notebooks, Hand drawn, Hand lettered
| Tags: Bullet Journal, Dingbats notebook, Staedtler watercolour brush pens, Tsukineko Memento inks
16 Comments
Although it's been a few weeks since I posted any bullet journal pages here on the blog, the journal is turning out to be a handy record and planner for me. So far I have done more recording than planning as I am still working out how to use it for keeping track of ongoing projects. I have been recording all the evening meals we've been cooking and eating which is really helpful when I am trying to work out what to make next. All four of us take turns cooking which I love but it is sometimes a little tricky as we have a range of food sensitivities and allergies to take into account, some with serious health consequences.
As you can imagine I am also keeping track of books I've read and thinking about keeping track of podcasts too. Some podcasts are long time favourites while there are others I subscribe and unsubscribe from as my interest waxes and wanes.
But here is my March theme, a sunset behind birch trees in snow. I have been seeing themes on the interwebs featuring blossoms and flowers but that is not a March thing where I live. We still have plenty of snow and have been enjoying some amazing sunsets so I decided on one more wintery theme.
I masked the edges of a rectangle with post it notes top and sides then cut a curved edge along one for the bottom mask. I masked the trees by cutting strips of post-it tape in different thicknesses including some very thin scraps to lay on the page as branches. With the masks in place I used blending brushes to apply the inks shown below to fill the sky. To get some pattern in my sunset sky I tore some post-it edges and blended ink over the top of the first layer along the torn edges moving them around to get the look of clouds.
Once all the sky was done I removed the bottom mask and put a different one in place to blend a snow bank shadow. I then removed all the tree masks and drew edges and black marks with a black Pilot fineliner then some grey shadows with a staedtler brushpen.
I'll be back next weekend with other birch sunset themed pages. I'm continuing to be a fan of the Dingbats notebook I'm using and was given another for my birthday which is just as lovely. They have just this week come out with a new, bigger style with thicker paper, so who knows I might have to let that one join the family one day too!
(Compensated affiliate links used when possible)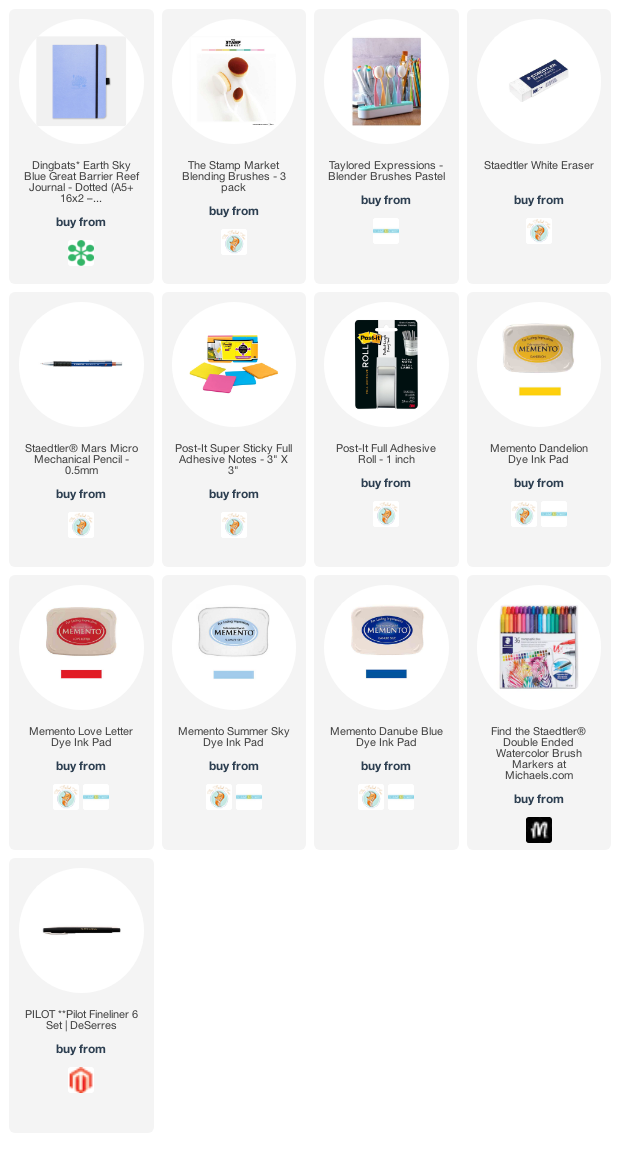 ---