Groovy Greenery
Posted: July 10, 2020
Filed under:
groovy greenery
| Tags: Fabriano Watercolour Paper, Papertrey ink, Penny Black stamps, Tsukineko Versafine inks
5 Comments
Groovy greenery is the name of this set; it's full of cute plants and pots, seven of each that you can mix and match.
I stamped all the plants and containers with Papertrey ink cubes. I mixed and matched with four different greens making sure I used a combination of two greens in each plant. I stamped the greenery in one ink then blended the inside of the leaves with the stamping ink plus one other. I did some basic masking with post it notes so I could have leaves overlap the leaves of the plant beside and some leaves overlap the pots.
The pots are all narrower at one end than the other so they are designed to be tall not wide but I decided to have some looking a little wonky and wide, kind of like I might have made them myself.
The sentiment is from the new PB 'trust me builder' set. There is a large 'trust me' stamp and seven phrases to finish the sentence. I just used one of the phrases. I stamped the sentiment in dark green and matted the panel to match.
Just a reminder to enter the giveaway I am hosting with Foiled Fox right now. You need to go back to Monday's blog post and leave a comment letting me know what you are doing for refreshment these days. Thank you everyone who already let me know, I enjoyed reading all your refreshing tips and past times, some of them are exactly the same as mine and there are a few involving sitting by the water that I wish were mine!
Supplies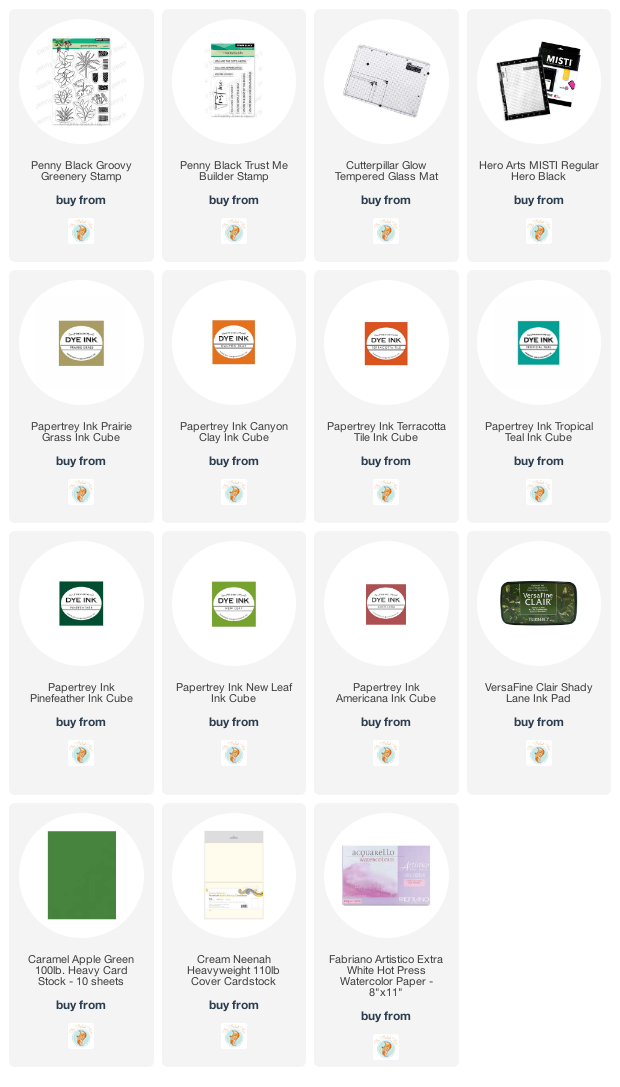 ---