Country Charisma
Posted: May 15, 2020
Filed under: country charisma, Penny Black
| Tags: Fabriano Watercolour Paper, Papertrey ink, Penny Black stamps
13 Comments
This rustic style card features a few stamps from the Penny Black 'country charisma' set. The clear set includes a jug, a watering can and four floral/foliage stamps to pop in the jug. I had a rough plan in my head as I started stamping but it didn't work quite how I had hoped. I almost quit half way through but I remembered a tip I had heard from the talented Jenna Rainey in one of her recent videos where she recommended not stopping too soon. Sometimes a painting or card can look unappealing part way through but balanced and complete when more detail, colour or texture is added.
I worked on hot pressed watercolour paper with some masking fluid splattered on it. I stamped the jug first in papertrey ink cubes 'smokey shadow' and 'cocoa bean'. I blended the inks to fill the jug, adding extra ink from my glass mat where necessary. I let the jug dry before adding flowers and foliage. The leaves and flowers I inked with bright buttercup and olive twist ink cubes. I spritzed them lightly with water before stamping and did minimal blending with a very small brush on the panel. At this point it looked a little ho-hum so I took a chance and stamped another flower in 'royal velvet' and 'enchanted evening'. Can we take a second to wonder how these delightful ink names are chosen? I think I would have fun with that job!  The purple flowers definitely added some contrast but it was still a bit of a patchy design; it lacked depth. I ruled a line of black soot ink across the panel then blended the ink downwards adding cocoa bean and stormy sea inks I'd already used and a few drops of the buttercup and royal velvet.
With the jug grounded I felt I was almost there but the background needed a little something. Trying to watercolour around all those little leaves was not an option so I pulled out the blending brushes and blended some bright buttercup ink around the edges and a little bit over the flowers. It is possible to add a very pale layer with a blending brush which was exactly what I needed for this design. I removed the masking fluid to reveal the white blotches adding to the overall rustic look.
To finish off the card I added a very narrow mat in the purply blue colour and attached that to a new fave, 'luxe grey cardstock'. I think I mentioned recently the lovely luxe white textured cardstock from the Foiled Fox; it's a creamy colour that works well with my watercolour paper. The same textured cardstock comes in grey; I rarely use grey card bases but I think that might change with this lovely luxe grey.
Have a great weekend, friends.
Supplies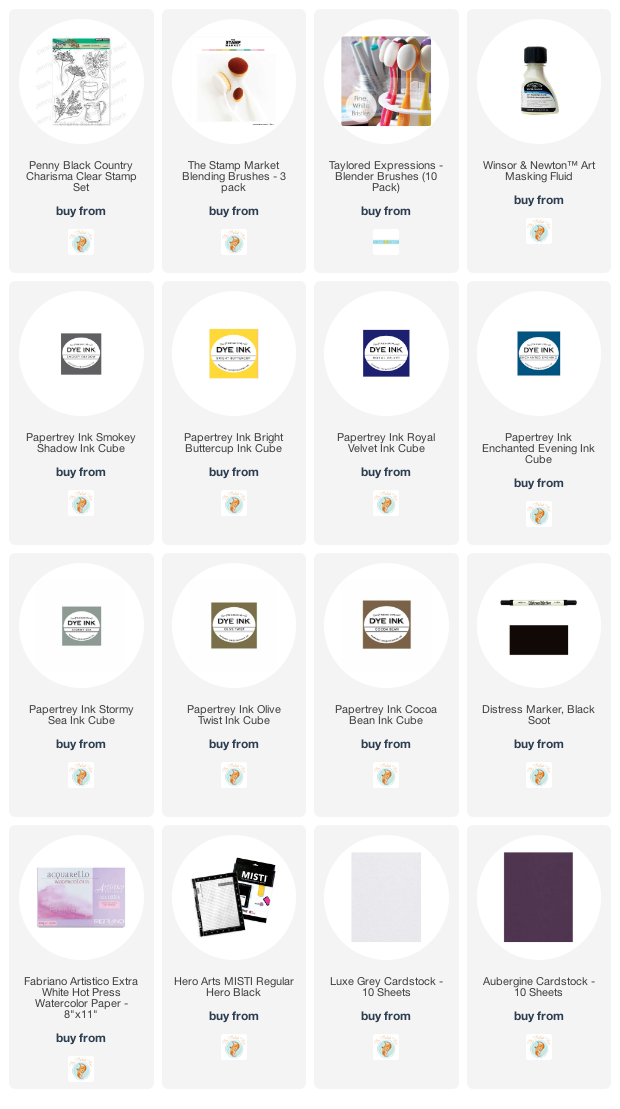 ---