Herb garden
Posted: March 18, 2020
Filed under: herb garden, Penny Black
| Tags: Fabriano Watercolour Paper, Penny Black stamps, Ranger Distress inks
7 Comments
Here is another new stamp from Penny Black and definitely one of my faves from the new release 'Secret Garden'. I'm not much of a gardener, certainly not in the class of my mother and father but I do plant herbs every spring and use them in my cooking during summer and fall. Before the snow came at the beginning of winter my daughter decided to transplant a few into pots and bring them inside. They really didn't enjoy the transfer but they struggled on. I don't think they have enjoyed the neglect either we as fail to water them for weeks at a time. Despite our patchy efforts they seem to be hanging in there. I assume I should prune them hard soon then look after them a bit better leading up to their return to the outside world.
I did not have the same issues keeping these three pots looking healthy. I used distress inks pads and markers to do some watercolouring. I knew I wanted the herbs to all be different greens but I didn't want them to clash with each other so I picked four green inks and used a different pair on each herb for continuity. The parsley was pine needles and mowed lawn, rosemary was iced spruce and peeled paint and basil was mowed lawn and peeled paint. When inking the stamp I dabbed both inks on the leaves, stamped then used a paintbrush to blend the inks with water to fill the leaves.
All the pots were done with barn door, hickory smoke and vintage photo ink. I inked the stamp with the three distress inks but also picked them up from a glass mat so I could paint each pot adding shadows and depth. I also painted shadows below each pot with hickory smoke ink and a little vintage photo. I thought about adding some background but I just love those little pots sitting there looking healthy all by themselves to I left them alone just adding 'thinking of you' from the mini set 'wildflowers'.
I just took another look at our sad stringy herbs; advice is welcome!
Supplies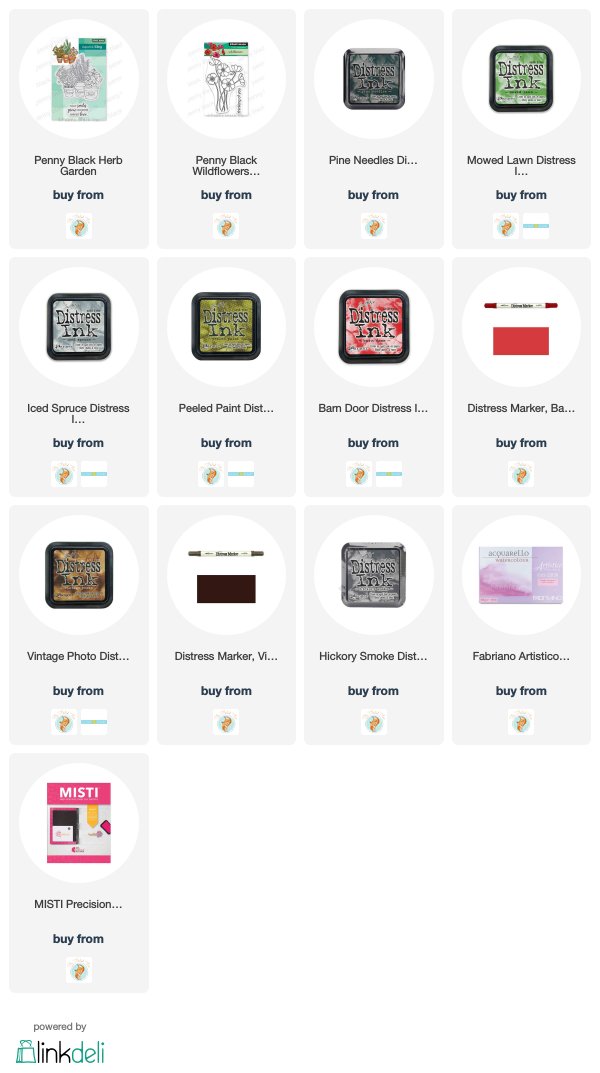 ---