Ruby Trill
Posted: October 18, 2019
Filed under:
ruby trill
| Tags: Penny Black stamps, Ranger Distress inks, Ranger Distress stains
11 Comments
Let me introduce you to 'ruby trill' a cardinal stamp from PB; isn't he a beauty? I wasn't sure about my colour choices when I started painting these holly leaves but by the time I had finished the whole panel everything seemed to work together. I kept my colour range small as I often do. First I stamped the bird and branch with antique linen so I could do some no-line watercolour. Before painting I stamped some of the leaves with pine needles distress ink so that I could blend the green ink with water as well as add extra if needed. I worked one leaf at a time and also dropped in some blueprint sketch ink for added depth. This is where I doubted my choice; the blueprint sketch looked too blue and I wondered if I should start again. I decided to keep going and painted the berries in candy apple distress ink and the branch in gathered twigs.
It wasn't until I started painting the cardinal that the colours looked like they would work. I used the same candy apple distress ink to paint the cardinal but added shadows with the blueprint sketch and the gathered twigs inks. I know I keep saying this but the limited palette really does work! I added the brown on the tail and behind the wing and blue along the back and crest. As I had kept the stamp and watercolour panel in the stamp positioner I was able to ink the black area around the eye and stamp it before blending it with water and extra ink.
I had reference photos of cardinals on hand to check the colour of the legs and beak. Once all the painting had dried I re-stamped the body of the cardinal in candied apple to darken the details on the back and wings. At this point I had to decide whether I was adding a background or not. In the past I've ruined several focal images by adding a background around them. I decided I wanted a grey snowy look so I painted around holly with water and dropped in weathered wood distress stain as I went along. It was fiddly getting in and around the legs and leaves but it's a loose cloudy look so no fussing about precision. While the background was still wet I inked just a few holly leaves and berries and pressed them onto the wet panel in a few places to look soft and shadowy. I dried everything before splattering some white paint over the whole panel and some black soot in the corners. Even though the mats look black in the photo they are actually teal and the little patterned strip behind is a PB snowflake paper in just the right grey/green colour.
Supplies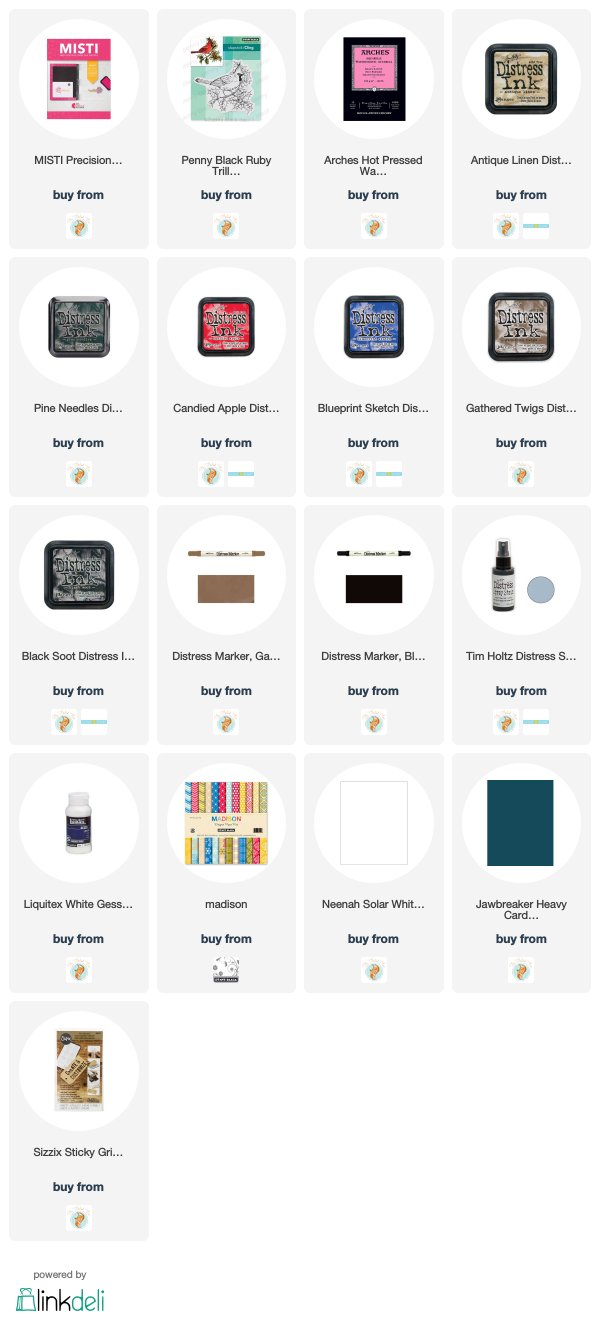 ---