Peaceful forest
Posted: October 16, 2019
Filed under: Ink to Paper, Peaceful Forest dies
| Tags: Ink to Paper, Ranger Distress inks
4 Comments
Before I begin to chatter on about today's card I want to thank all of you who left a comment under my Thanksgiving post. It was so lovely to hear from you; I really enjoyed your messages.
As I mentioned the other day every year I create new snowy forest scenes, often then include starry skies or the northern lights. This first card features a very easy way to make a 'northern lights' background for die cut trees, houses, reindeer, etc.
I picked three distress inks, the originals not the oxides but you could use the oxides for a slightly different look. I rubbed a cracked pistachio mini inkpad across a third of the hot pressed watercolour panel, then a blueprint sketch mini across another third (with some overlap) and finally a chipped sapphire mini across the remaining area. The panel looked like it had been roughly shaded with crayons or pencils. I then spritzed the whole panel so the colours would move and blend and used a paintbrush in a couple of places so the coverage was complete. I left the panel to dry leaning against a bottle so the ink drained down in patterns to give the look of the northern lights. The funky trees are cut using 'peaceful forest' dies from Ink to Paper. The snow banks I cut from a piece of cardstock with a craft knife in one continuous curvy stroke. I cut my curve with equal amounts of cardstock on each side so I could layer them and have a foreground and background snowy hill.
On the second card I began the same way and created my tricolour panel then die cut five trees from it and a little round moon. Once again I cut the hills by hand with a craft knife then layered them before tucking in the little trees all around.
Pretty easy-peasy wouldn't you say. Just pick a few distress colours that would blend nicely, swipe them across your panel and add water!
The cute little sentiments are also from 'Ink to Paper' and there is a stamp set that co-ordinates with the tree dies but you will have to wait for another day to see that.
Supplies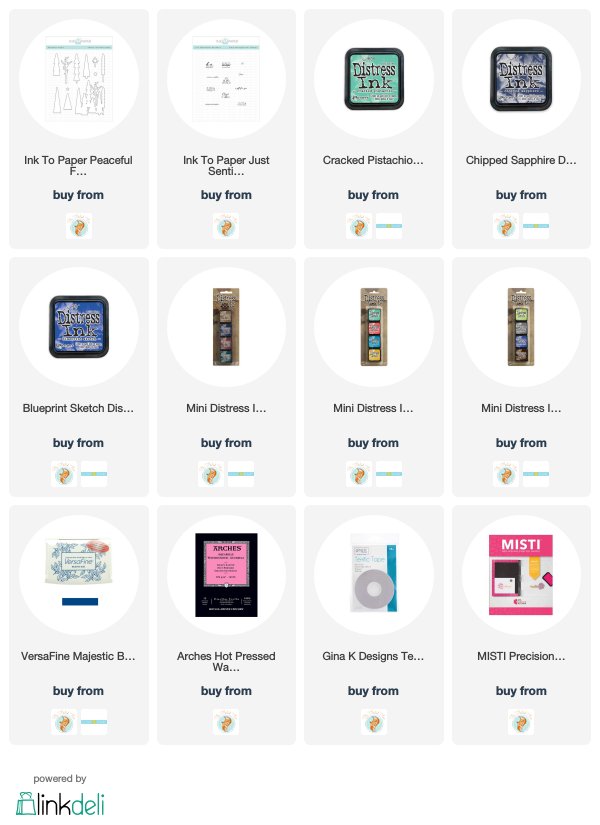 ---