Autumn songbird
Posted: September 27, 2019
Filed under: grateful for everything, songbird
| Tags: Concord & 9th, Ranger Distress inks, Ranger Distress stains
7 Comments
Hi there; it's a special day! Not only am I hanging out on The Foiled Fox blog today, I also have a video to for you! I first used the Concord & 9th 'songbird' set last winter and incorporated the pine boughs, leaves and berries. This time I went for an autumn theme and used distress inks and distress stains as I seem to constantly be doing right now. I may need to mix things up a bit around here.
I have shared a few no-line colouring projects here lately where I stamped with antique linen ink; this project could also be considered no-line colouring but I stamped the outline images in brown, yellow or grey, colours I then used for painting. As the bird and leaves were not too fiddly I cut masks out so I could have leaves peeping out from behind things.
I worked once again with a fairly limited palette of fossilized amber, brushed corduroy, pumice stone, stormy sky and black soot, basically grey, blue and yellow tones.
When it came to the sentiment I decided to pull out the C&9 'grateful for everything' set  because I love the words and that funky script. I added splatter and some sponging which filled the background a little making it appear lest stark.
I would love to know if you have some favourite 'all year round' stamps or sets. Here are a couple more all season options:
PB Nature's gifts
PB Peaceful Moment
Thank you for joining me today, I'm looking forward to returning in October for some more fun with the Foiled Fox.
Supplies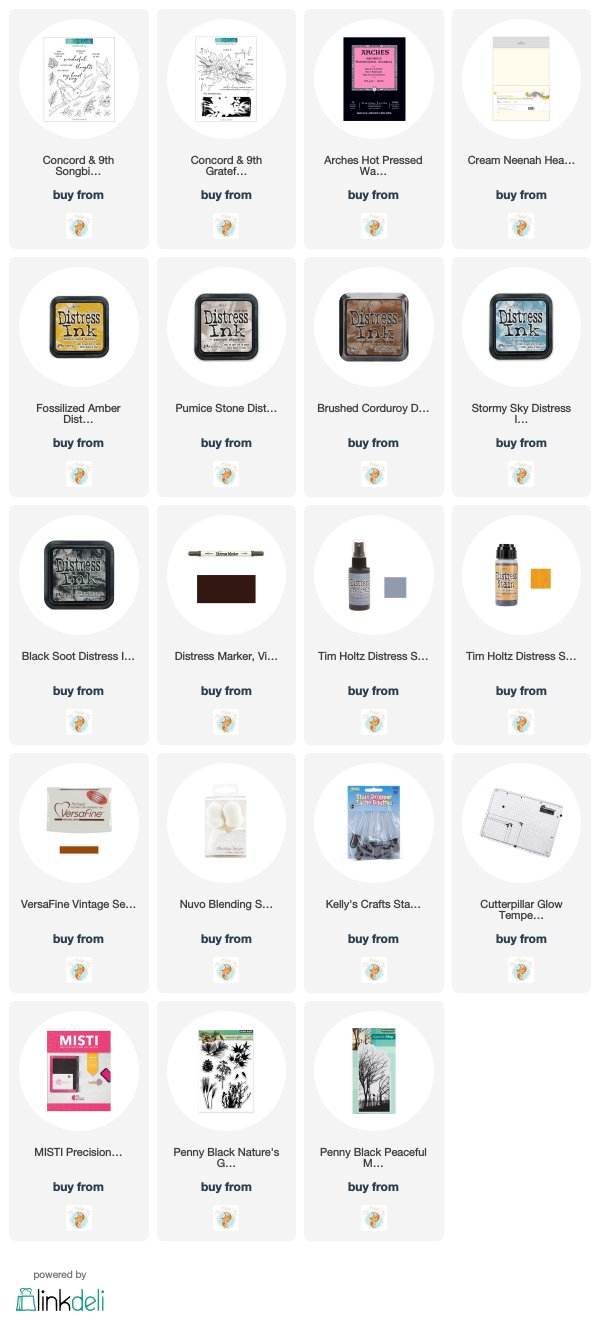 ---