Posted: January 23, 2020
Filed under:
passionate blooms
| Tags: Penny Black creative dies, Penny Black stamps, Ranger Distress inks
6 Comments
I have seen this stamp on quite a few cards lately, just pop over to the Penny Black blog if you want to see some other colour schemes and techniques. I have surprised myself with this colour scheme and also by choosing a large heart motif in the first place. I don't usually make Valentine's day cards so when I decided to ink this stamp it was always going to be for a versatile friendship card.
I worked on hot pressed watercolour paper in the stamp positioner and inked one flower at a time. It is easier to ink a single flower with a marker but when I don't have the colour marker I need I use an inkpad and just wipe excess ink off the stamp. Each time I stamped a flower or leafy section I blended the ink with a paintbrush and added extra ink if necessary by picking it up off my glass mat. On some of the flowers blending the colour resulted in loss of definition so I restamped after all the colouring was done. That's the beauty of keeping it in the stamp positioner.
The distress inks I used were carved pumpkin, barn door, mermaid lagoon and peeled paint; I'm pretty sure I've never used that combo before. I added centres to the flowers with a black marker.
I chose a die-cut sentiment that spans the heart and chose orange cardstock to stand out against the background. Even though the sentiment was over the top of mainly red and turquoise flowers it got a little lost so I cut a black layer as well and stacked two orange over a slightly offset black.
On my last post 'Creating in Colors' commented, '...I love it when you design cards for which I have the stamps and/or stencils! I'm inspired to try these.' I was so pleased to read that. It makes me happy when that happens; its always good to get a fresh idea for supplies we already have.
Supplies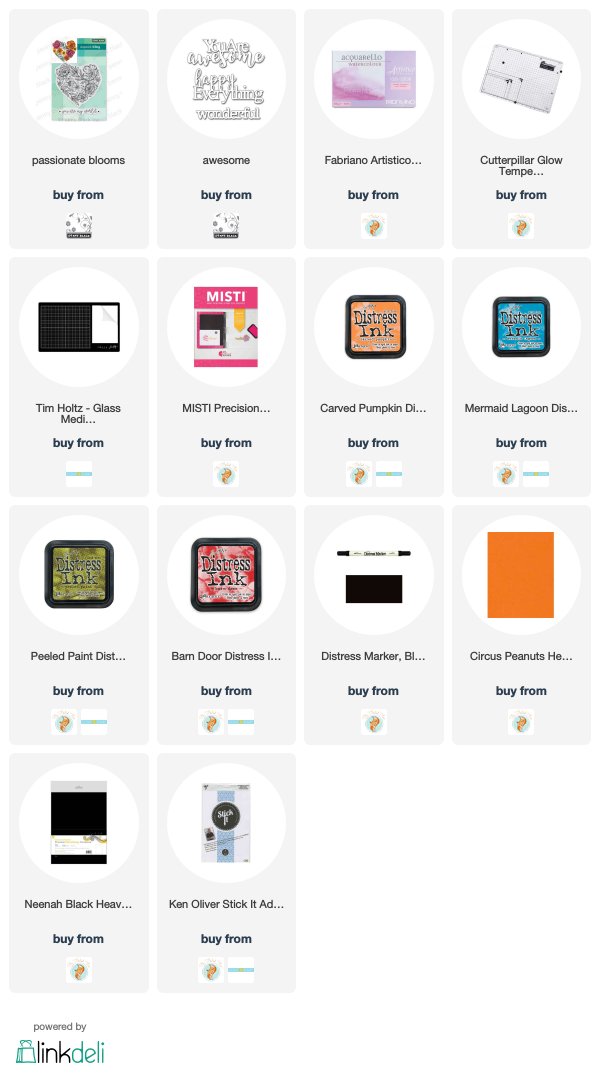 ---