Pencil Daisies
Posted: May 3, 2022
Filed under: Coloured pencil, daisy dream, Karin brushmarkers, springtide
| Tags: Faber-Castell Polychromos Colour Pencil, Gouache paints, Karin brushmarkers, Penny Black stamps
8 Comments
When I stamped the PB 'brilliant' stamp for my recent pencil poppy card I also stamped several other outline stamps on kraft cardstock for pencil colouring. This stamp is called 'daisy dream' and is coloured with Karin pigment decobrush markers, white gouache and Faber-Castell coloured pencils.
In my recent pencil poppies post I referred you to the talented Debby Hughes for a video tutorial about colouring with gouache and coloured pencils. I used some of the same tips for this card but ended up using the Karin pigment brushmarkers as well. I coloured the petals on the flowers above with the gold marker. The effect was very similar to painting gouache first but easier because the marker brush tip did such a good job on those narrow petals. I painted the centres with white and the leaves with the Karin 'leaf green' marker before using coloured pencils to add details and shading to the flowers and stems. The glass vase is coloured with a white and two grey pencils.
I added some shading below and behind the vase, a white embossed sentiment and some white gouache splatter before attaching the panel to a white card base.
I now have three daffodils blooming in my garden so there should be at least 47 more coming! I did plant 50 daffodil bulbs a year and a half ago and they are supposed to multiply aren't they?
Supplies
(Compensated affiliate links used when possible)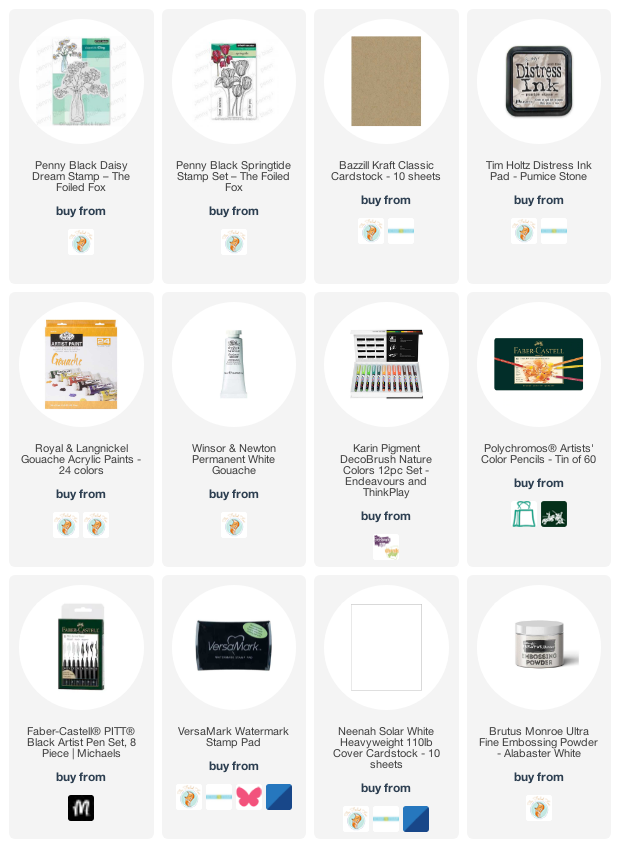 ---