Winter Sky
Posted: February 11, 2022
Filed under: panoramic, Penny Black, Picturesque (trees)
| Tags: Penny Black stamps, Ranger Distress inks
4 Comments
I'm teaming up with the Foiled Fox today to bring you this wintery sunset sky. Make sure you pop over to the Foiled Fox blog and online store to see what they have been creating lately. This slightly unrealistic scene features stamps from Penny Black. The telegraph pole and little plant on the right are from the 'panoramic' set, the plant on the left is from the 'picturesque' set and the sentiment is from the 'ever thanks' set.
I worked on a piece of hot pressed watercolour paper but you could do this design on normal white cardstock by leaving out one step. I splattered masking fluid over the panel then when it was dried swiped it through some kitsch flamingo and faded jeans ink. The swipe gave me a pale blue, pink and purple background. I stamped the telegraph pole first with jet black archival ink then decided to mask a snow bank at the base of the panel. Even though the panel was already coloured I blended more colour above the mask to make the sky darker than the foreground snow. While the mask was in place I stamped all the plants along the edge.
I used blending brushes to add the colour using the original two inks plus chipped sapphire and tore more masks to create clouds/snowbanks to fill the top of the panel. I hadn't set out include all that masked blending but it looked so pretty I just kept blending! So if you wanted to work on normal cardstock and do all the colour with blending brushes you would just omit the 'swipe through the ink' step. Hope the sky is looking pretty where you are; I have seen some beautiful skies lately, both morning and night.
Supplies
(Compensated affiliate links used when possible)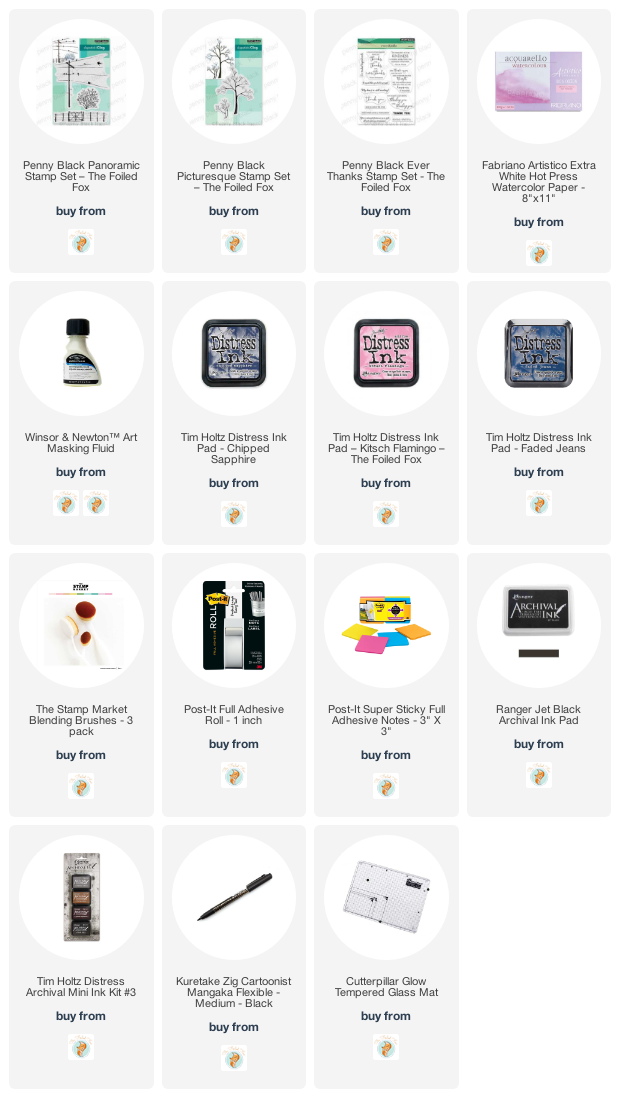 ---