Mini Snowscapes
Posted: December 3, 2020
Filed under: Nature's Friend, Penny Black, quietude, tannenbaum trio
| Tags: Papertrey ink, Penny Black stamps
5 Comments
I found myself needing a few more Christmas cards this week so I spent a pleasant couple of hours creating mini snowscapes with a handful of stamps. I taped a piece of hot pressed watercolour paper that was already splattered with masking fluid in quarters and kind of worked on the four panels at the same time. I used some of the techniques featured in my new WINTER WONDER online class but on a smaller scale.
The snowscape above features just a fraction of the PB quietude stamp stamped over a painted ink sky. I painted deep snowbank shadows in front of the small trees and then added a bigger tree from PB nature's friends set in the foreground.
For the mini snowscape above and below I cut circle masks from painter's tape and positioned them in the top right corners of my quarters before painting inky blue, purple and grey skies. The mini snowscape above features a tree of PB tannenbaum trio set and the one below is from nature's friends.
Again on the panel below I painted the sky first and stamped the tree over the top. I've listed all the inks I used in the supply list below.
Once all the panels were dry I removed the tape and masking fluid, trimmed them all neatly and popped them up on a couple of pieces of cardstock to create a little distance and shadow from the luxe white card bases. I pulled out an old favourite sentiment set, holiday snippets for greetings in the perfect size.
Thank you for your encouragement yesterday as I announced my involvement in this year's Dressember campaign to raise funds for ending slavery and human trafficking across the world. If you would like to learn more about the campaign or the International Justice Mission please click the links provided to find out what it is all about. As a Dressember Canada advocate the money I raise will be used by IJM in their work around the world investigating trafficking crimes, fighting legal battles against offenders and creating safe places for the recovery of survivors. Click here to donate

(Compensated affiliate links used when possible)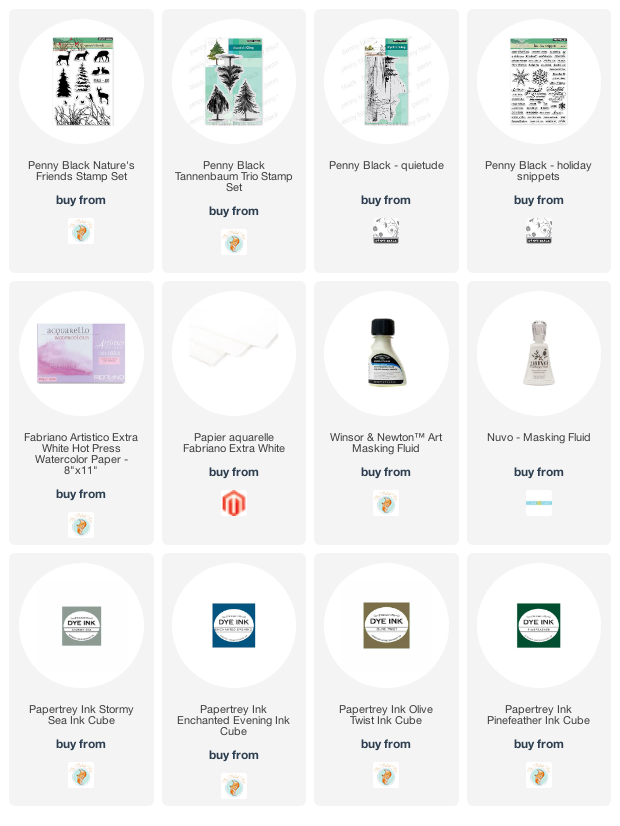 ---