Snowy saplings
Posted: October 11, 2019
Filed under:
saplings
| Tags: Penny Black stamps, Ranger Distress inks, Tsukineko Versafine inks
6 Comments
Every year I make some snowy forest scenes, with stamps that are old favourites and with new ones destined to be favourites. These trees are from a new PB set called 'saplings' and they are so easy to work with!. I placed my hot pressed watercolour panel in the stamp positioner and placed a hill shaped frisket film mask across the base of the panel where I wanted to preserve white space for the snow. I could probably have used a couple of layers of masking paper as I didn't end up getting the panel very wet.
I inked one or two trees at a time with different combinations of the following distress inks: chipped sapphire, broken china, mowed lawn, peeled paint. Before I stamped I lightly spritzed the stamp so the colours would blend nicely. I moved the panel a couple of times and moved the stamps so I could get a decent row of trees at different heights. I sponged a bit of broken china ink along the top of the mask to create a shadow behind the snow bank then moved the mask to stamp a tree in front. I then moved the mask twice sponging both times to get another couple of snowy hill shadows to appear behind the trees and a blue sky.
To create the 'snow' in the sky I gently splattered and strategically dropped some water on the distress sponging. The distress inks react with water so after the droplets had sat for 30 seconds I dabbed them with a paper towel which left white watermarks. To finish off I linked two stamps from the PB 'Merry Builder' and stamped them in majestic blue versafine ink.
Despite the appearance of a snowy scene on the blog today I am happy to report it has been sandals weather this week. Yay!
Supplies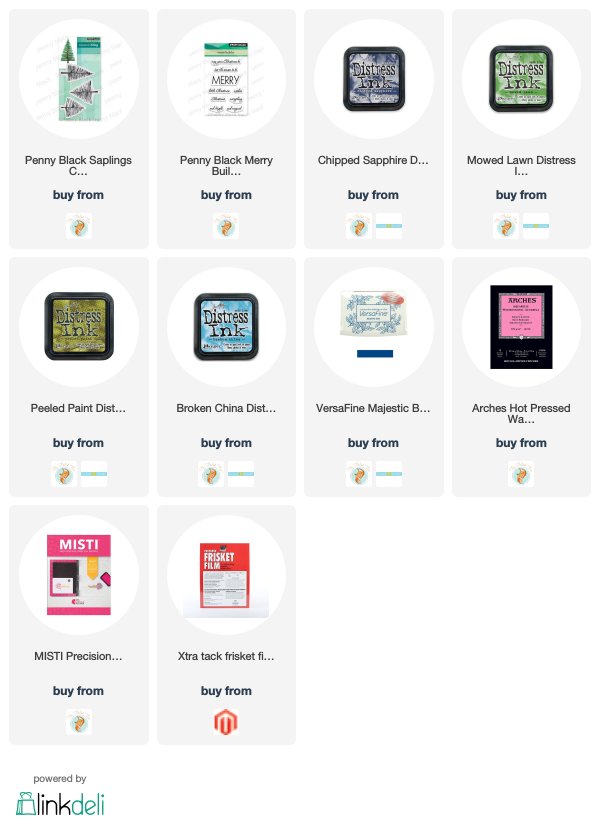 https://linkdeli.com/widget.js?1559654439292
---