Outback life
Posted: August 2, 2019
Filed under: country life, Penny Black
| Tags: Penny Black stamps, Ranger Distress inks
23 Comments
It's been very quiet here on the blog as I have been in Australia since late June. The circumstances of the trip were  unexpected and very sad but the time here with family has been precious. My husband and I along with his brother and sister spent most of July in Alice Springs which is a surrounded by desert in the middle of Australia. The landscape is not unlike the scene pictured above.
This stamp, 'Country Life', is one of the scenic ones from the recent Penny Black 'Dreaming' release. It was probably not designed with the Australian outback in mind but that is the direction I decided to go. ( I made this card before I knew I was coming to Australia but it is a match for some of the scenery I've seen lately)
I started by stamping the windmill and grasses in wild honey, rusty hinge, gathered twigs and black soot distress ink. I used markers and ink pads to darken the colour moving down the structure. The base of the windmill and the grass silhouettes were completely black so they would be visible even when I added a dark background.  The 'wild honey' sections of the windmill appear to be reflecting the last rays of sun in the evening. It is winter in Alice Springs right now so the days are short; I was surprised each day by the early nightfall. Once the windmill and scrubby bits of grass were stamped to my satisfaction I inked the whole stamp in versamark and embossed in clear powder. This is a technique I have seen Jill Foster use on scenic stamping. With all the colour on the windmill and grass 'sealed' in by embossing I was able to add all the background colour without altering the windmill or grass at all.
To create the background I placed a post-it note across the horizon and used brushes to blend a wild honey, salty ocean and blueprint sketch sky. I changed the position of the post-it to mask the sky so I could blend gathered twigs and rusty hinge ink over the ground.
Here's a photo I took in Alice a couple of weeks ago. Blue skies every day and red dirt everywhere!
Supplies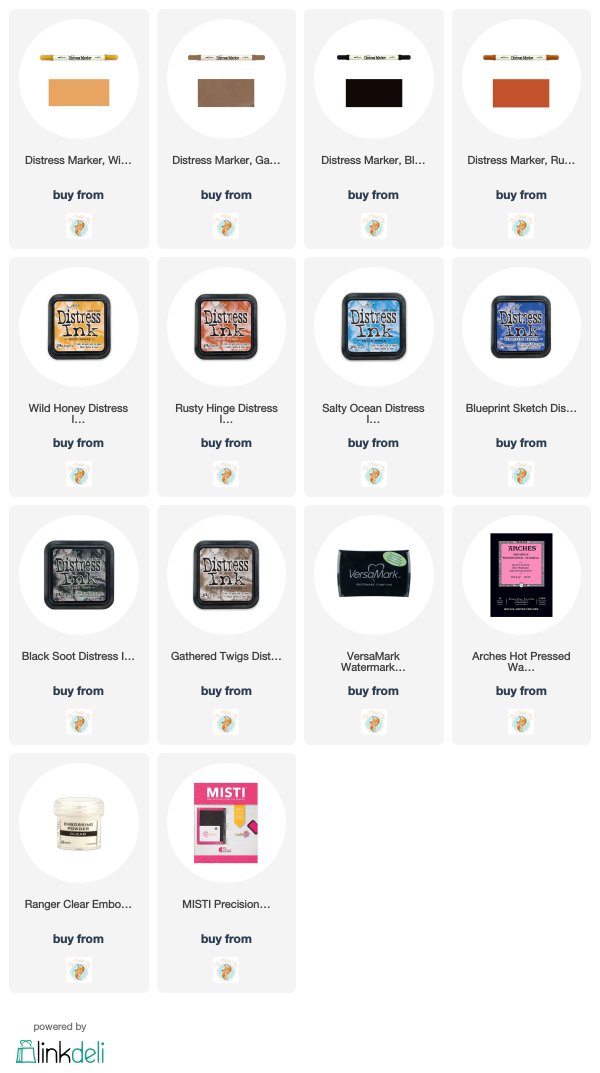 ---