Cool tone leaves
Posted: October 13, 2015
Filed under: Bister, Filigree Foliage
| Tags: Bister, Fabriano Watercolour Paper, Tsukineko Memento inks
10 Comments
As you can see I haven't put away the Filigree Foliage set. This time I didn't paint out the filigree pattern as I have on previous cards; I kept it for a more decorative look. These colours reflect what is in my yard right now. There are plenty of yellow leaves floating down but the deep red ones are holding back.
I created this panel in layers starting by wetting the paper and stamping a few green leaves which then blended into the background laying down colour without leaving distinct shapes. When that had dried a little I stamped again in greens and mustard, spritzed some more water and also sprinkled some bister powder. Finally I stamped with water to create a few very pale impressions which picked up some of the bister lying around. I realise some of my stamped images are incomplete, some are distinct, others are blurred which is not everyone's preference. I like to let the water and inks bleed and blend a little for some unique effects.
I'll be back soon with some warm toned leaves. Thanks for dropping by.
Supplies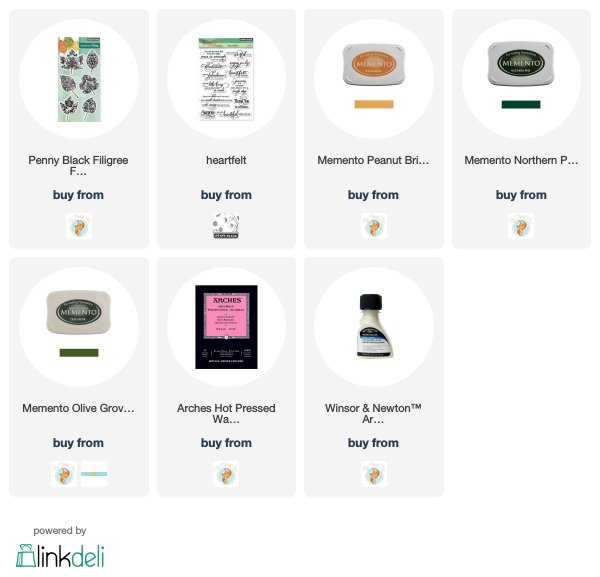 ---