Winter tree
Posted: December 19, 2022
Filed under: Echidna Studios, winter tree & bench
| Tags: digital stamps, Echidna Studios, Fabriano Watercolour Paper, sennelier watercolours
15 Comments
This sweet scene is based on a real tree and a real bench. It's another design by my daughter and available as a digital stamp in her etsy store, Echidna Studios. I printed it twice on hot pressed watercolour paper. One image almost fills a 4¼" x 5½" card and the other is smaller leaving room to be framed by the snowfall embossed panel.
One of the nice things about digital stamps is the way they can be printed any size you want. I used Sennelier watercolour paints to paint the blue sky across the panel working my way around the bench but painting over the top of the tree. Once the sky was dry I painted the bench with brown and grey paint then the tree with black. Some of the branches are quite thin especially on the smaller version so I used a fine tip Pitt pen to colour them.
When the painting was all dry I coloured over the lights with a gold gel pen. Now that I have tried the image a couple of times I want to go more slowly and see if I can get those lights to glow a bit more. It is a calm pretty image but if I was trying to reflect the last few days of weather here in Ottawa both tree and bench would be covered in snow!
(Compensated affiliate links from Foiled Fox, Scrap n Stamp)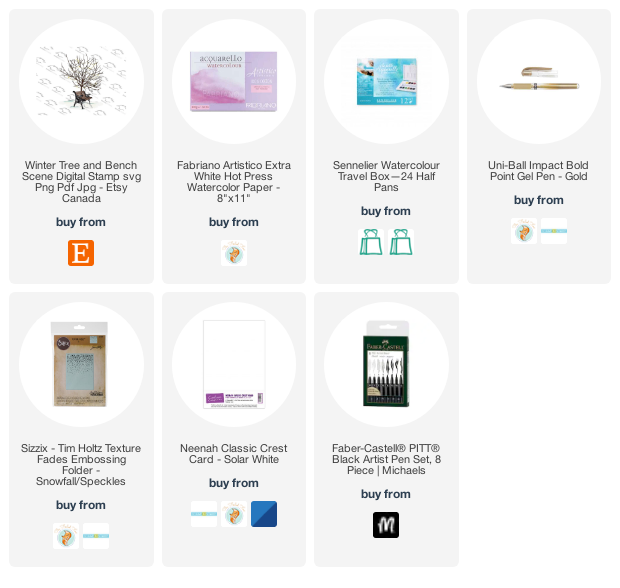 ---