Alight
Posted: October 22, 2021
Filed under:
alight
| Tags: Penny Black stamps, Ranger Distress inks
8 Comments
I'd like to introduce 'Alight' a lovely stamp from the new Penny Black release. I have teamed up with the Foiled Fox to share this pretty little bird so you can find me over there today too. Make sure you click over to see more of the new release in their shop and plenty of inspiration on their blog.
The new 'Making Spirits Bright' release includes some lovely wintry images, several easily large enough to fill a card front. This card is just under 6½" x 4¾", larger than my usual size. I worked on hot pressed watercolour paper with masking fluid splattered on it and painted the background first. By 'painted' I mean smooshed the ink on my glass mat, diluted it with a few spritzes of water and swiped the panel through the liquid. I was after some pale swooshy colours in the background and used inks that were going to feature in the stamped design.
I worked in the stamp positioner the whole time so I could add ink bit by bit. I completed the bird first inking the edges in fossilized amber, pumice stone and speckled egg. I inked and stamped a couple of times then added some water to blend and cover each section. I didn't want each colour to blend too much with the one beside it so I didn't drown either the stamp or the page with water.
I made sure the bird was dry before adding the beak, eye and legs so they would stay distinct and not blend into the rest of the bird. For the leaves and berries I just picked one green and one purple, unusual for me; I often blend two greens for leaves. To add light and shadow I blended over the forest moss and seedless preserves stamping with a bit of water keeping some areas dark and other diluted.
The sentiment is from the new PB 'happy & bright' set stamped in shady lane versafine clair ink. How are you going with your Christmas card making. At the beginning of this year I resolved to make at least one Christmas card each month. We are in the tenth month and I have managed to make six (including this one!) I do have a new online class coming soon though which is full of Christmas card designs so I will have more than six on hand! I also have an in-person class at the beginning of November, so samples from that one will also boost my supply.
Thanks for dropping by today.
(Compensated affiliate links used when possible)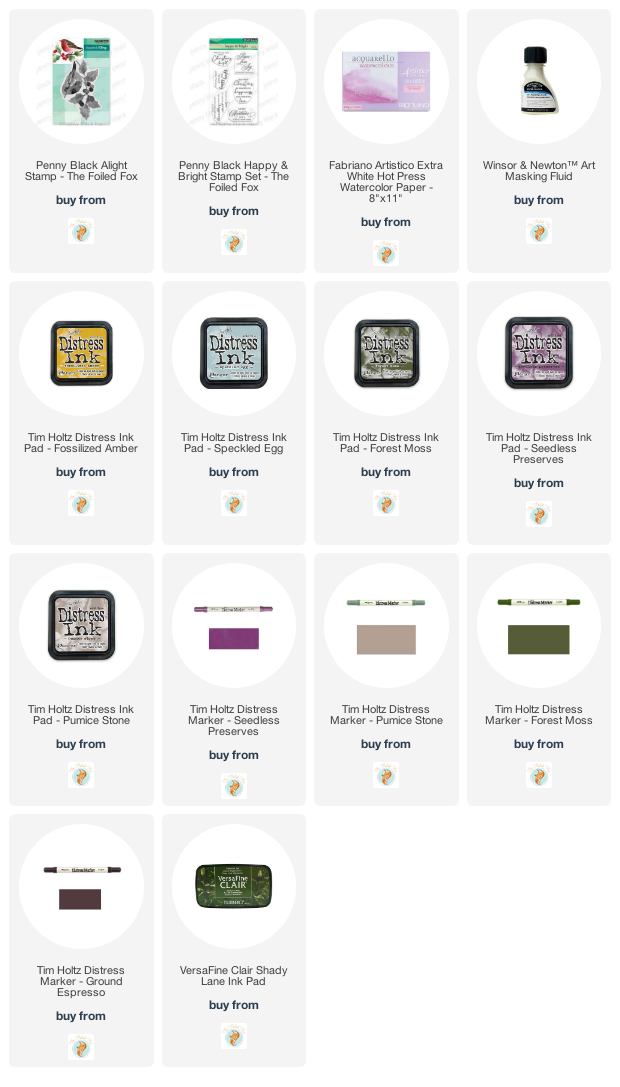 ---