Golden wildflowers
Posted: June 12, 2020
Filed under: Wendy Vecchi, wildflowers
| Tags: Penny Black stamps
9 Comments
This card is a combination of things I have been meaning to try but hadn't got around to yet. The sentiment featured on today's card has popped up on a few projects already; I like the size and clean font. Each time I've used it I have thought, 'I must use the flower stamp some time'. Today's the day. The set is from Penny Black and it's called 'wildflowers'; it's a mini set made up of one floral stamp and one sentiment, both featured on this card.
The other products that have been waiting patiently on my work table are the bright happy inks on this card. Rachel from Darkroom Door kindly sent me these Wendy Vecchi's 'Make Art Blendable Dye inks' to try out. That's quite the title isn't it? I am happy to say they blended well on the cold pressed watercolour panel in the centre and stamped beautifully on the card base. They beaded a bit on contact but soaked into the paper to make a smooth complete outline. I stamped the painted panel in sunflower and green fern then smooshed both inks on my glass mat along with 'poppy' for painting all the flowers and stems. You can't tell from my card but the floral stamp is made up of a group of flowers on stems all pointing upwards. I stamped my panel on both ends so the flowers are actually coming in from the corners. Once I had painted all the petals and stems I put the panel back in my MISTI and stamped the centres in black soot distress ink.
I matted the panel in green cardstock added the sentiment on the same green then decided to create my own patterned card base by stamping the floral stamp twice on the bottom and twice at the top.
Hope you have a sunshiny weekend! Thanks for dropping by.
Supplies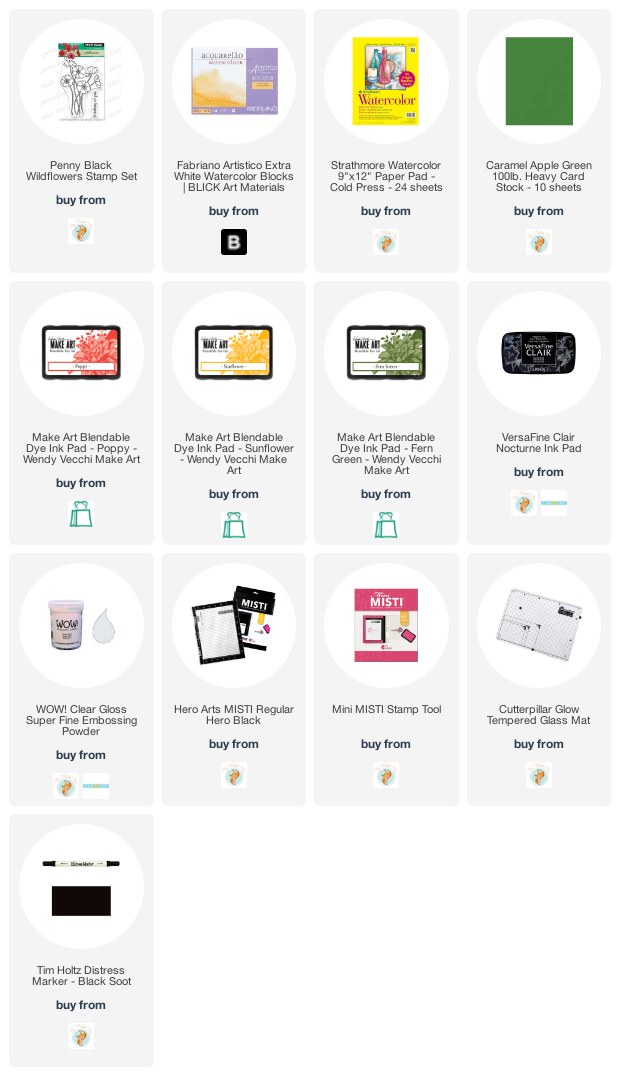 ---