Tenderness roses
Posted: February 7, 2020
Filed under: Peerless watercolours, Penny Black, tenderness, tenderness matching dies
10 Comments
I am on the Foiled Fox blog today, one of my favourite artsy craftsy places to be. If you want to read how I created today's cards then pop over there right now! If you want to read some of my musings and wonderings about stamps, dies and paints keep reading here and then click over there.
These roses are from a sweet little Penny Black set called 'tenderness' and it has co-ordinating dies. I have come a little late to the co-ordinating die game but you know I don't like to fussy cut so it's no surprise that I opted for the die cutting route.  Another reason I haven't used many co-ordinating dies is because I often stamp and paint directly on my panels with very few layers involved.
One of the questions with co-ordinating dies is how to deal with the white outline if you have a coloured background. I think I'm used to seeing it now so it doesn't bug me as it once did. On the roses above I did paint outside the lines on a few of them so there is a mix of coloured edges and white edges. I don't think it is too distracting either way.
Another thing you can do with co-ordinating dies is cut masks for layered stamping. The masks will be a bit bigger than the stamped image but it is easy to trim a little off or just position the masks to line up with the edge of the stamp that needs to be masked.
I did all the painting for these cards with peerless watercolours. Sometimes I forget about my peerless paints because they are an unassuming collection. If you haven't heard of them before check out an earlier blog post I wrote about them. The colours blend beautifully, the range of colours is excellent and the price is pretty nice too.
I chose friendship sentiments again, one from PB 'love language' and one from 'bear cuddle'. All the supplies are listed below and here's the link to my process on the Foiled Fox blog.
Supplies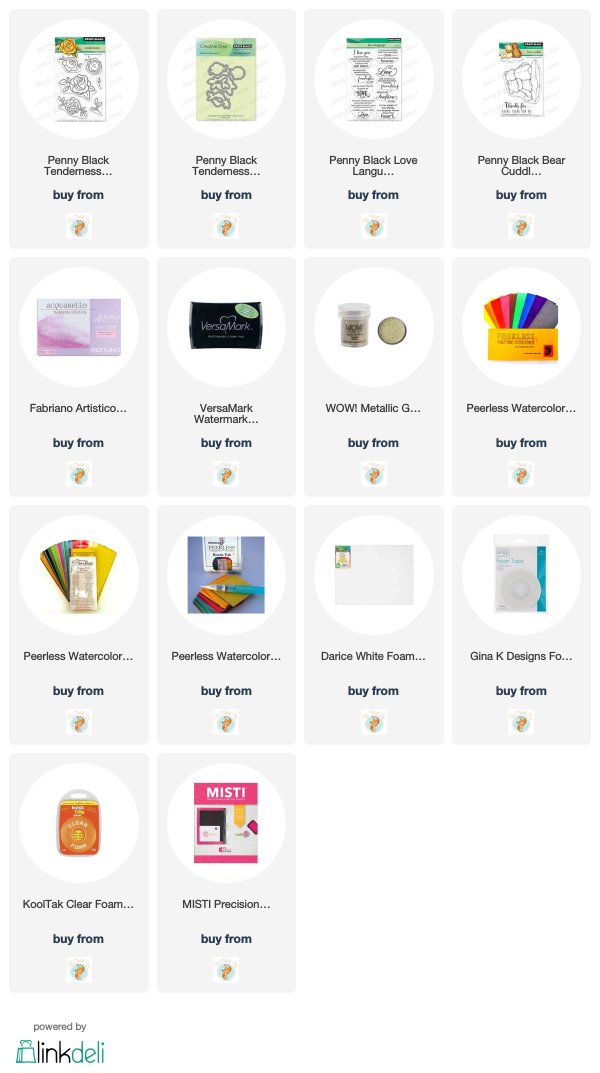 ---