Posted: May 26, 2023
Filed under: berry leaves, fairy buds, Lavinia, silhouette thistle, star group miniature, three dancing fairies
| Tags: gel printing, Lavinia
4 Comments
No, sadly I don't have any clean up fairies; that would be a win! This little moonlit scene is stamped with Lavinia stamps on one of my gel printing 'clean up sheets' and I couldn't resist the name. As I gel print I clean the brayer on clean up sheets off to the right of my plate. I use thickish drawing paper and when the sheet is well covered but still looking pretty I move it and start on a new sheet. So, yes, I have many clean up sheets to turn into cards or other projects.
I am still learning my way with Lavinia stamps; there is an art to the layering and arrangement. One of the fairies looks like she is doing a little cleaning of the fairy bud but the other looks like she is diving off the high tower. I know there is a plethora of Lavinia inspiration videos out there so maybe I should watch a few.
I stamped all the bold images in black and used blue and green inks to stamp some sprinkly stars and shadowy leaves in the background. The clean up sheet was mainly blue, pink and green so I cut a circle mask and blended more green around it to suggest a moon. I used sparkly gel pens to colour in some of the fairy buds and the fairy wings.
(Compensated affiliate links from Foiled Fox, Ecstasy Crafts* & Scrap n Stamp)
*if you visit the Lavinia products at Ecstasy Crafts make sure you use the heathertecs10 discount code at check out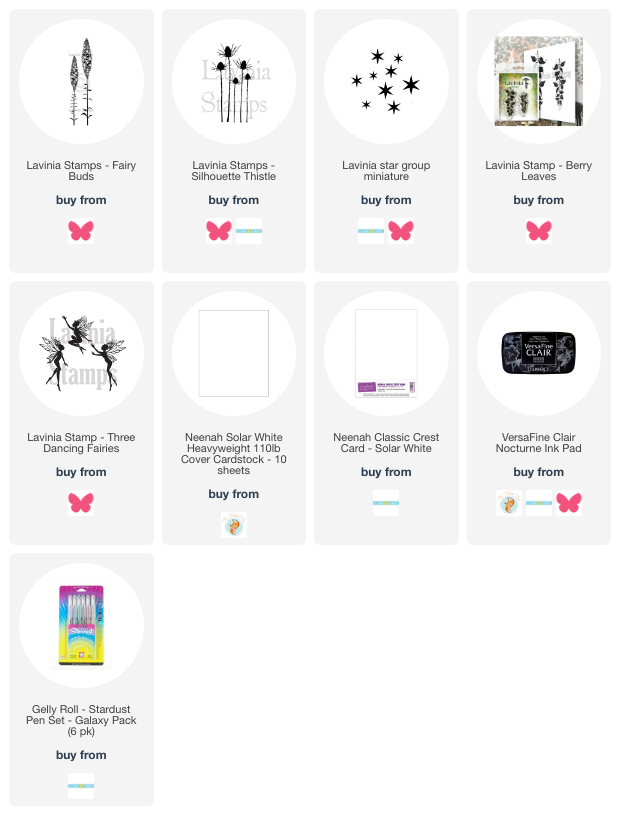 ---