Posted: November 12, 2019
Filed under: floral Christmas, framing florals Christmas, framing florals Christmas dies, Ink to Paper
| Tags: Finetec artist mica watercolour paint, Ink to Paper
7 Comments
I mentioned in my last post that I would be back with more cards featuring the 'floral Christmas' and 'framing floral Christmas' sets from Ink to Paper. These sets are so much fun to play with. Today's cards are true one layers, I stamped straight on the neenah solar white card base and inside the card base, I haven't done that in a while. But before I gab on about my cards you I'm sure you all want to know who the winners of the Holiday Traditions giveaway are! Thank you again for sharing your holiday traditions both on my blog and the Foiled Fox blog. We really enjoyed reading about traditions from around the world. Some were close to my family's traditions others were totally new to me and had me intrigued. I am thrilled to announce that Pat Moore and Lois Hecksel are the winners of gift certificates to the Foiled Fox online store. Enjoy shopping ladies! (You will get an email from Shauna at the Foiled Fox with the details.)
I worked on these two cards side by side on my glass mat. I taped the second one down with post-it tape using the grid on my mat to get the tapes lined up so they would mask off a band across the card front. On this first card I just taped down a couple of corners to keep the card steady. The only time I used my stamp positioner was to add the sentiments at the end. For the card above and close up below I used an earthy colour scheme of greens, brown, red and pops of gold. I used Papertrey ink cubes ripe avocado, pine feather, dark chocolate, Americana and distress barn door. It made sense to start with the poinsettias as they were the biggest, next the larger leaf sprays and finished with the berries and little flowers. I added finetec gold paint over the berries on the green leaf sprays to add some shimmer and make the berries stand out. There are matching dies for these sets so I cut a poinsettia shape from a post-it note to do a little masking when I wanted to pop leaves behind.
For the second card I used a cool colour scheme keeping only the pine feathers green and adding scarlet jewel, ocean tides, dark indigo and delicata silver. I still worked from large elements to small and used a finetec shimmery pink ink to add berries to one of the leaf sprays. Finishing with a small stamp such as the flower (above) or the star (below) makes it easier to fill all the nooks and crannies with colour and pattern. As always it was satisfying to carefully pull back the masking tape to reveal a clean edge.
I have resolved to stamp matching envelopes at the same time I make my cards from now on and if I am adding something to the inside of the card I need to do that also while the inks and stamps are out. I have always known this makes sense but usually haven't done it. I am currently prepping for a market in less than two weeks and have spent hours pulling out stamps to make matching envelopes for existing cards. Hopefully this new habit will stick.
The little sentiment is from Ink to Paper's Just sentiments: Be Merry set, cute and sweet like the stamps.
Supplies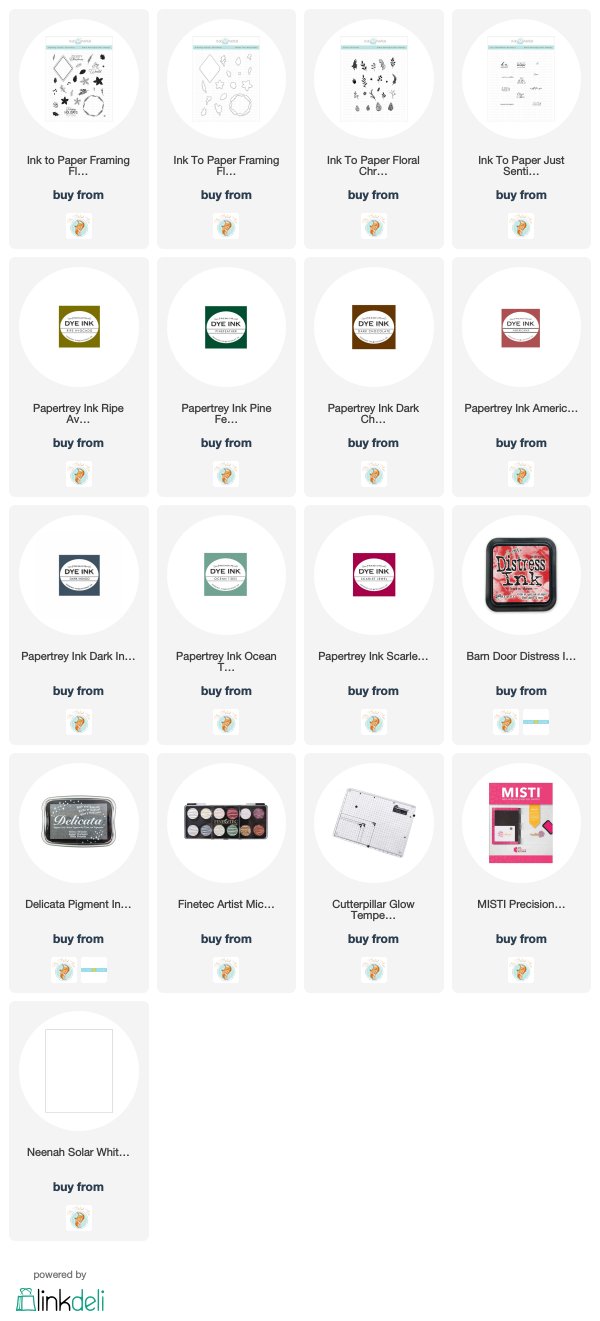 ---