Farmland Views
Posted: August 13, 2021
Filed under: farmland, Penny Black, Stamped Landscapes
| Tags: Penny Black stamps, Ranger Distress inks
5 Comments
On Monday I posted a video featuring a new scenic stamp set from Penny Black. Today I've used the new 'farmland' stamp. I have two different colour schemes showing off the single stamp. In future posts I will combine it with other stamps for more detailed landscapes.
I created the background first using faded jeans, fossilized amber and vintage photo, colours I would use again in the stamping. (to see how I created the background check out Monday's video)
Once the background was dry I put the stamp in a positioner so I could stamp one colour at a time. The farmers fields are vintage photo, crushed olive and mowed lawn. I used rustic wilderness for the trees on the horizon. A mix of stamp pads and markers made it possible to add detail to the house and trees. Spritzing and splattering over the fields gave them the texture which suggests crops.
On this second card I used a reference photo of farm fields including lavender alongside another crop. The colours are perhaps a little bold but I love trying to recreate a photograph with stamps. The background is paler this time (scattered straw and salty ocean) and the fields a mix of seedless preserves, dusty concord, rusty hinge, fossilized amber, peeled paint, rustic wilderness and vintage photo.
Once again I used markers to add final detail back into the trees and house. Can you picture the lavender fields of Provence? I have visited a lavender farm in Tasmania and you smell it before you see it!
(Compensated affiliate links used when possible)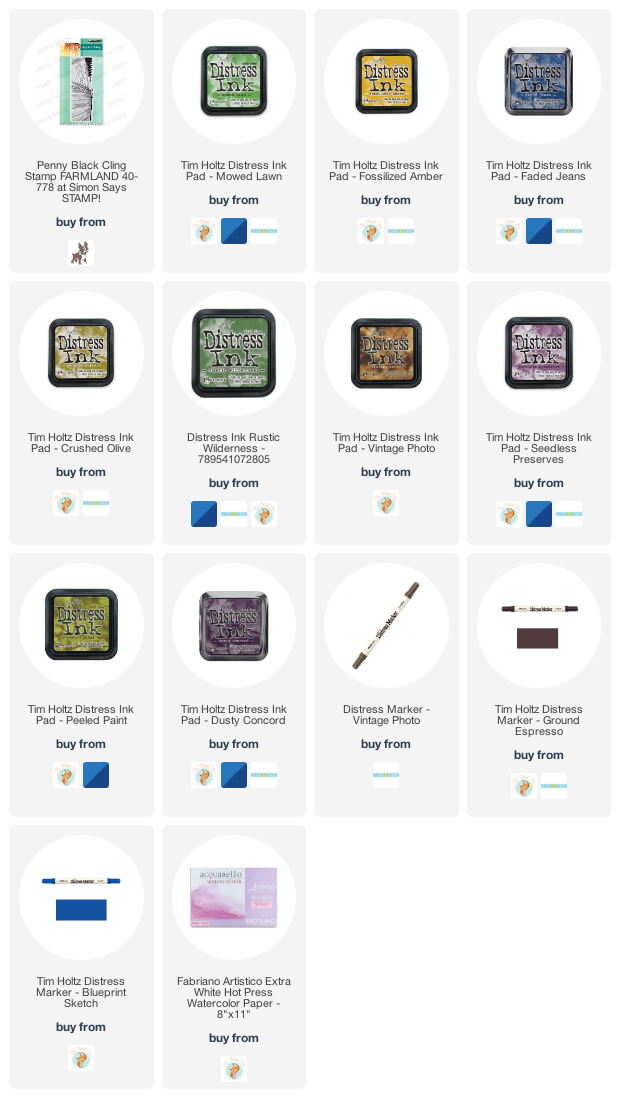 ---